IconDeveloper 1.3

IconDeveloper is a program that makes it a snap to create your own icons for Windows.

Developer:
Stardock Systems
software by Stardock Systems →
Price:
0.00
License:
Freeware
File size:
0K
Language:
OS:
Windows Vista

(?)

Rating:

0

/5 (0 votes)
IconDeveloper is a program that makes it a snap to create your own icons for Windows. Most icon editors come with their own graphics editor. IconDeveloper doesn't.

Instead, it assumes that most people who want to create icons are either going to create them using an existing graphics package like Photoshop, MS Paint, CorelDraw, or they take existing images (.BMP, .PNG, .JPG, etc.) and turn those into icons.

So instead of putting effort into a bitmap editor, IconDeveloper focuses itself on making it really, really easy to turn existing images into Windows icons and allowing for common modification of those icons (resizing, color changing, etc.). The result is a program that makes icons extremely fast, extremely well and extremely easily.

The free version allows for the creation of standard Windows icons, Windows XP icons, and shell integration.

An enhanced version is also available for $19.95, which adds additional features such as creating and editing any sized icons at any resolution up to 256x256, changing the hue/gamma/color of the icons, batch convert and batch colorize entire folders of icons.


IconDeveloper features
Create & Edit Small Sized Icons (16x16)

Create & Edit Standard Sized Icons (32x32)

Scale Icons to different formats

Convert JPGs, BMPs, PNGs to icons

Create & Edit Windows XP formatted icons

Right click on images from Explorer and convert to icons

Convert images from clipboard (copy & paste) into icons

Create & Edit Very Large Sized Icons (48x48)


Limitations
Icons are limited to 96x96

tags

sized icons icons and icons create images from windows icons into icons that makes editor icondeveloper icons are existing images program that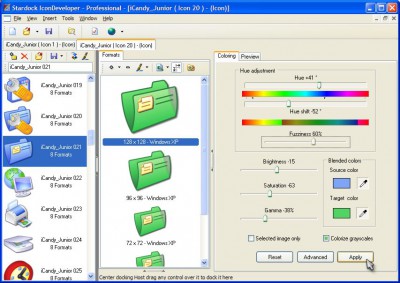 Download IconDeveloper 1.3
Authors software

Holiday Desktop 2.0
Stardock Systems

This program will change your title bars, Start bar, menus, add a cheery calendar, change your Windows icons, and change your wallpaper to a nice holiday theme.

Blog Navigator 1.2.2 build 283
Stardock Systems

Blog Navigator read blogs on the Internet Blog Navigator is a new program that makes it easy to read blogs on the Internet.

IconDeveloper 1.3
Stardock Systems

IconDeveloper is a program that makes it a snap to create your own icons for Windows.
Similar software

IconDeveloper 1.3
Stardock Systems

IconDeveloper is a program that makes it a snap to create your own icons for Windows.

Folder Changing Icons 1.47
EMO

Folder Changing Icons is a set of icons for Windows95/98 and WindowsNT 4.

Icon Master 3.0
Hallsoft&Univerzalsoft

It can create icons from any paint program you have.

Easy Picture2Icon 2.1
Picture2icon.com

Easy Picture2icon will convert your images to icons.

Icon sushi 1.21
towofu

icon sushi it is an icon convert tool that supports the mask editor and the creation of Windows XP 32bit icons.

IcoFX 3.1
Attila Kovrig

IcoFX is a free and useful icon editor which can create easily icons with transparency for Windows XP and Windows Vista.

SP Shell icons 1.28.0.13
Andrew N. Balahonov

SP Shell icons represents a small program that will change Windows system icons to it's own.

Icons from file 5.1.1
Vitaliy Levchenko

Extracts icons or icon arrays from files (EXE, DLL, OCX, etc.

Pop-a-BMP-to-ICO 1.13
PopDrops.com

Have you asked "How do I convert bitmaps to icons?" Do you want to know how to convert a bmp to ico? If you do, download Pop-a-BMP-to-ICO! Pop-a-BMP-to-ICO is a simple image converter that was designed to make creating icons easier by making it possible to convert 32x32 bitmap images into .

Align Icons 2.0
Kanex Group, Inc.

Align Icons is a Windows context menu addition that allows you to align icons in any way you want.
Other software in this category

XP Icon Raider 1.01
Skylark Utilities

The XP Icon Raider is a simple tool that lets you replace the existing Windows 95, 98, or ME shell icons with the icons Windows XP uses.

Iconoplasm 2 beta
Skerryvore Software Ltd

Iconoplasm is an editor for Animated Cursors and Icons Cursor.

25 NEW XP Icons
n/a

25 NEW XP Icons offers 25 excellent icons for Windows XP, that cover most popular programs like Mirc, Quake and a lot of others.

SnIco Edit 1.4
SnideSoft

SnIco Edit is an advanced icon editor with support for 2, 16, 256 and true colors as well as the new XP 32-bit with alpha transparency.

Hook99 1.2.0.2
Lado Brisarmailt

Hook99 allows the user to personalize the start button.