NTFS Undelete 0.9

NTFS Undelete is a freeware application which will allow you to recover deleted files.

Developer:
A-FF Labs
software by A-FF Labs →
Price:
0.00
License:
Freeware
File size:
0K
Language:
OS:
Windows XP/Vista

(?)

Rating:

0

/5 (0 votes)
NTFS Undelete is a freeware application which will allow you to recover deleted files. It recovers files directly from hard drive, and it will work even if you empty Recycle Bin.

Before downloading NTFS Undelete, please consider the following:
When you delete a file, its content physically remains intact on the media, but the occupied space becomes marked as free. Next file saved to the disk may overwrite the contents of the deleted file.

It is very important to make sure that no application writes to the drive or partition where deleted file is located since every new file (even a small one) may overwrite the deleted file.

Since deleted files recovery is a very delicate process, we provide our software executable files bundled in different ways.

You can choose the method of installation according to your specific situation.

Windows Installer
Installer will set up NTFS Undelete on your computer. This is the easiest way to install NTFS Undelete; however, installer can be used only when the files you want to undelete are not located on the system disk (usually disk "C:").

If deleted files are located on the system disk, then you should choose different method of installation.

ISO Image
This ISO image can be burned to a CD or DVD disk on any computer. Then just insert the disk to the computer where deleted files are located, and NTFS Undelete will start automatically.

This method of installation is preferred when files you need to undelete are located on the system disk.

ZIP Archive
If you are sure about location where you can unpack executables of NTFS Undelete without damaging files you wish to undelete, choose this option.

Download and unzip files to a folder, then run the executable file. Also, you can extract this archive to an external media (such as USB flash stick) on another computer and then run the software on the destination computer.


Requirements
Microsoft Windows 2/2003/XP/Vista

NTFS file system

tags

ntfs undelete deleted files files you the system are located system disk you can deleted file the disk iso image run the files are then run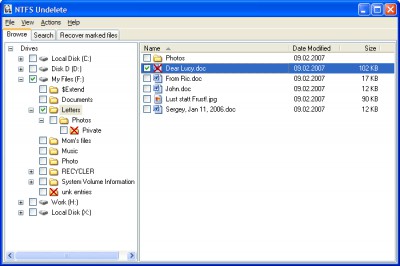 Download NTFS Undelete 0.9
Authors software

NTFS Undelete 0.9
A-FF Labs

NTFS Undelete is a freeware application which will allow you to recover deleted files.
Similar software

NTFS Undelete 0.9
A-FF Labs

NTFS Undelete is a freeware application which will allow you to recover deleted files.

Undelete Plus 2.7.1.0
FDRLab Data Recovery Centre

Undelete Plus is a quick and effective way to retrieve accidentally deleted files, files removed from the Recycle Bin, in a DOS window, from a network drive, from Windows Explorer with the SHIFT key held down.

Roadkil's Undelete 1.2
Roadkil



FreeUndelete 2.0.0930
Recoveronix Ltd.

FreeUndelete is a useful and helpful file recuperator utility.

Free Disk Wipe 2.5.1
The Undelete

Free Disk Wipe is a data cleanup and file wipe program that allows you to completely wipe/ remove / delete / erase a selected file from a disk (floppy disk, hard disk, logical drive etc).

Restauration 2.5.14
usb-mania.com

Restauration portable is a powerful toll to undelete files that were removed from any storage device, usb-Stick, iPod, Flash card or hard disks (recycle bin or directly deleted from within Windows).

Pandora Recovery 0.9.33 Beta
Pandora Corp

Pandora Recovery is a powerful free tool to attempt recovery of permanently deleted files.

Disk Redactor 2.1.336
CEZEO software

Disk Redactor is a WIPE utility, that prevent restoration of the old ( deleted ) files at your disks.

Disk Investigator 1.61
Kevin Solway

Disk Investigator is a useful program that helps you to discover all that is hidden on your computer hard disk.

Fundelete for Windows NT 2.02
Mark Russinovich

Although NT 4.
Other software in this category

Prevent Deletion 1.0
Mohammad Saiedi

Using this program you can prevent the deletion of certain files/folders on a shared drive in your network.

SectorSpyXP 2.1
Lexun Freeware

SectorSpy examines hard drive or diskette information at the sector level.

BackupGenie 1.7
Universal Technologies

BackupGenie will be easily configured to do many backup tasks of directories and files.

DrvImagerXP 2.2
Lexun Freeware

DrvImagerXP restores and creates images of FAT32 and NTFS drive partitions for the Windows2/XP operating systems.

DrvClonerXP 2.1
Lexun Freeware

DrvClonerXP copies a whole drive partition byte-for-byte, sector-by-sector, directly to another drive partition, producing an exact reproduction (clone) of the original partition.