FreeNetEnumerator 1.6.5

Enumerate computers is a tool to enumerate computers in a domain.

Developer:
Nsasoft LLC.
software by Nsasoft LLC. →
Price:
0.00
License:
Freeware
File size:
0K
Language:
OS:
Windows XP/Vista

(?)

Rating:

0

/5 (0 votes)
Enumerate computers is a tool to enumerate computers in a domain. Depending on enumeration parameters the tool can work in different ways.

It can enumerate all computers (if All Computers is selected), all SQL servers only (if Microsoft SQL Servers is selected), all primary domain controllers only (if Primary domain controllers is selected), backup domain controllers only (if Backup domain controllers is selected), primary domains only (if Primary domains is selected),etc.
tags

domain controllers controllers only primary domains backup domain primary domain all computers selected all sql servers enumerate computers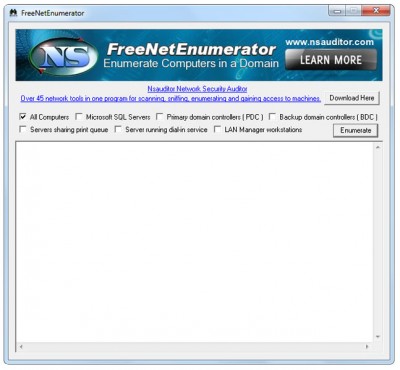 Download FreeNetEnumerator 1.6.5

Download FreeNetEnumerator 1.6.5

Authors software

ShareAlarm 2.2
Nsasoft LLC.

Share alarm is a tool that allows you to see parameters of the workstation which tries to establish a connection with your computer.

HttpTrafficGen 1.8.8
Nsasoft LLC.

HttpTrafficGen is a HTTP traffic generator useful for testing web applications.

Finger 2.4.5
Nsasoft LLC.

Finger is the tool for discovering user information by using well known finger service.

TrafficEmulator 1.8.3
Nsasoft llc.



Whois 3.1.4
Nsasoft llc.

Whois Tool is a client utility that communicates with WHOIS servers located around the world to obtain domain registration information.
Similar software

FreeNetEnumerator 1.6.5
Nsasoft LLC.

Enumerate computers is a tool to enumerate computers in a domain.

ShareEnum 1.6
Mark Russinovich

An aspect of Windows NT/2000/XP network security that's often overlooked is file shares.

EMCO OS License Modifier 1.0
Emco Software Ltd.

EMCO OS License Modifier is able to assist you when you need to change your Operating System license information, as it is registered at the computer, to rectify it according to your licenses.

Remember Mismatched Domains 1.3.3
Andrew Lucking

The Remember Mismatched Domains extension for Firefox and Thunderbird adds a "Don't warn me again about this certificate for this domain" checkbox to the Domain Mismatch and Expired Certificate warning windows.

WhoisThisDomain 2.45
NirSoft Freeware

WhoisThisDomain allows you to easily get information about a registered domain.

AddInternet Domain Search 5.0.8
AddInternet.com

AddInternet Domain Search is a free software that allows you to search for domain names available for registration as well as find out who is a domain owner by searching the global Whois database.

Expired Domains 1.0
Expired Domain Software

Expired Domains is free Windows desktop application which greatly helps you find domain names that are expiring soon.

WWW Domain and State Finder 1.8
Scalabium Software

WWW Domain and State Finder is a small and helpful list of countries, states, flags, available domains and much more.

Win32Whois 0.9.12
Gennady Feldman

Win32Whois is a useful, small and efficient Whois client that is capable to retrieve domain information for most of the common TLDs (top level domains).

Domain-IP Locator 1.2
Qytec

Domain-IP Locator will search in its database and find for you the country and the country code (CC) of IP Addresses.
Other software in this category

Netstat Viewer 1.0
Mischel Internet Security

Netstat Viewer is a useful graphic user interface replacement for the command line application netstat.

Wwhois 1.0
SoftGears Corporation

Unlike other windows whois program (they normally just shows Domain Name, Registrar, Whois Server .

Bopup Scanner 2.1.9
B Labs

Bopup Scanner is freeware network scanner that will allow you to scan your local network and display all available computers with logged user names, MAC and IP addresses.

TCPView 2.4
Sysinternals

TCPView is a little application that displays full details of all TCP and UDP endpoints on your system, including the remote address and state of TCP connections.

Name2Ip2Mac v1.2
Ionut Cioflan (IOn)