Random Photo Screensaver 2.5

With Random Photo Screensaver you can create photo screensavers.

Developer:
Marijn Kampf
software by Marijn Kampf →
Price:
0.00
License:
Freeware
File size:
0K
Language:
OS:
Windows XP/Vista

(?)

Rating:

0

/5 (0 votes)
With Random Photo Screensaver you can create photo screensavers.

Download this freeware screensaver and simply add your own digital photos. The setup screen puts you in control of all the features. All features have a default setting so it is easy to get started with.

Simply select the folder on your computer with your images and enjoy. If you want more control, the features are all selectable. Automatically change the background picture after each time the screensaver is run, or each day.

Missed a photo while watching the screensaver, simply use the arrow keys to browse to the previous picture. Or skip to the next if you don't like the current photo on display. You can display the name and folder of the current image in the top left corner of the screen.

So you can track what you are watching. You can display a clock with the current time or with the screensaver running time. I use the screensaver running time as an RSI prevention myself to see whether my computer break has been long enough.

If you want more control over what images are displayed, you can exclude any subfolders such as thumnail folders. The program automatically filters out all images with the system hidden attribute set. The program displays all jpg and jpeg photographs and images. A full installer and uninstaller is included.
tags

you can the screensaver the current with the screensaver running the program running time can display use the the features you want want more more control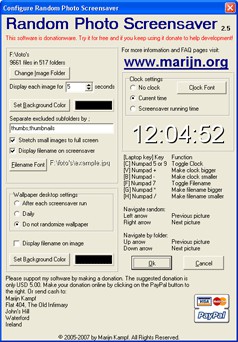 Download Random Photo Screensaver 2.5

Download Random Photo Screensaver 2.5

Authors software

Random Photo Screensaver 2.5
Marijn Kampf

With Random Photo Screensaver you can create photo screensavers.

MyFireFox.co.uk screensaver 1.1
Marijn Kampf

MyFireFox.

General Logo Builder 1.2
Marijn Kampf

General Logo Builder is a simple program that will help you create your own text on a fixed number of logos.
Similar software

Random Photo Screensaver 2.5
Marijn Kampf

With Random Photo Screensaver you can create photo screensavers.

XP Tools Software Aquarium Screensaver 1.0
XP-Tools.com

Screensaver software is a program which automatically displays a moving picture or pattern on the computer screen after the computer has been idle for a certain period of time.

FreeSaver MP3 2.30
MGShareware

FreeSaver MP3 lets you show your own images and play your MP3 files as screensaver.

ScreenSaver Druid 1.0 Build 10030123
XemiComputers Ltd.

ScreenSaver Druid is freeware solution for managing screensavers.

Picture of the Day 1.3
Xequte Software

Do you have a favorite "Pic of the Day" site, such as the many sites that display a "Pet of the Day", "Cartoon of the Day", "Babe of the Day" or a high-res digital photo of the day? With POTD you can bring those images to your own desktop automatically.

Cute Woman In Aqua Lingerie Screensaver 1.0
Free Clean Photos

This 100% free screensaver contain Several Photos for a Beautiful Long Haired Woman get posed In Lingerie.

iShare Screensaver 2.0
Pelogeo

You probably already tried the Windows screensaver that displays a slideshow of your own photos stored on your computer.

ScreenSaver Commander 1.1
BaDeVlad

With ScreenSaver Commander you can have total control over the standard Windows' screensaver option! For example, if you wish to use several screen-savers instead of one, the ScreenSaver Commander gives you that option effortlessly, and quickly.

93 Photo Street 1.3.1
Transmutable

A photo map displays your images arranged by location instead of by time.

Tchnicolor Hair Screensaver 1.0
Screensavers-Free

Tchnicolor Hair Screensaver displays on your screen a randomly produced series of digital art images of multicoloured hair strands.
Other software in this category

Spring Wildflowers Screen Saver 1.3
ACEZ

Brighten your desktop with colorful spring wildflowers.

Only Kostroma Screen Saver 1.0
Only Screen Savers Group

Only Kostroma Screen Saver contains the big-size high-quality images of Kostroma town with amazing transition effects.

Best Ottawa's landscapes 2.0
Bersoft Inc.

Salvapantallas que incluye 24 hermosos pasajes de Ottawa, Canada.

Matrix Reloaded Screensaver 1.6
Winsquad.net

The Matrix Reloaded screensaver is a freeware openGL Matrix Screensaver that truly captivates the spirit of The Matrix movie, Matrix Reloaded and Matrix Revolutions sequels.

Ghost Forest Screen Saver 1.5
Enev Design & Consulting

A beautiful collection of hand-painted, children-safe screen savers.