MyFireFox.co.uk screensaver 1.1

MyFireFox.

Developer:
Marijn Kampf
software by Marijn Kampf →
Price:
0.00
License:
Freeware
File size:
0K
Language:
OS:
Windows XP/Vista

(?)

Rating:

0

/5 (0 votes)
MyFireFox.co.uk is a freeware screensaver to show the world (or at least your office) that you're using Mozilla FireFox. Promote Mozilla FireFox even when your not behind your computer! This screensaver has FireFox logos bouncing over your screen.

The MyFireFox.co.uk screensaver features a clock that will display the time or time elapsed since your screensaver started (Or hide it if you prefer). The screensaver is ready to go but most options are completely configurable.

You can add an remove bouncing FireFox logos, adjust the speed, toggle the clock on and off, set the size, font and color of the clock, Toggle the background on and off, select whether the logos should bounce.
tags

and off the clock toggle the firefox logos mozilla firefox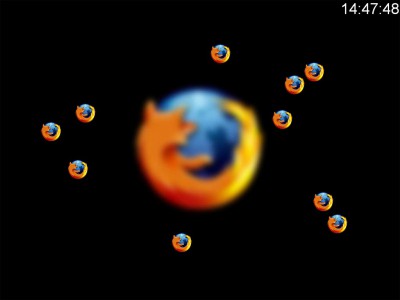 Download MyFireFox.co.uk screensaver 1.1

Download MyFireFox.co.uk screensaver 1.1

Authors software

Random Photo Screensaver 2.5
Marijn Kampf

With Random Photo Screensaver you can create photo screensavers.

MyFireFox.co.uk screensaver 1.1
Marijn Kampf

MyFireFox.

General Logo Builder 1.2
Marijn Kampf

General Logo Builder is a simple program that will help you create your own text on a fixed number of logos.
Similar software

MyFireFox.co.uk screensaver 1.1
Marijn Kampf

MyFireFox.

Sun Clock screensaver 2.3
7art-screensavers

Sun Clock screensaver is a beautiful and sunny screensaver that will show you how people used shadows to tell time.

Art Clock Screensaver 2.3
Clock-Desktop

Art Clock Screensaver - one tiny, pretty and relaxing clock screensaver.

AJScreensaver 0.3
Anne Jan

AJ Screensaver is a freeware clock screensaver.

Gold Clock ScreenSaver 2.3
clock-desktop.com

Gold Clock ScreenSaver will display a carved clock in a bar of gold.

Lucent Clock Screensaver 2.5
clock-desktop.com

Lucent Clock Screensaver is a nice screensaver that will help you when everything seems bad and the whole world turns its back on you - Lucent Clock will lighten up your screen and mind with its fantastic energy.

Coco Clock Screensaver 2.3
clock-desktop.com

Time is a substance from which everything on Earth is made.

Nissan Bounce 1.0
Paul M Nicóla

This is two Nissan Logos bouncing around your screen and every time they hit anything they will bounce in a different direction.

Fluid Clock ScreenSaver 2.3
clock-desktop.com

The world is fluid in the hands of Fluid Clock.

Bouncing Skeletons Halloween Screensaver 1.0
qualitysavers.to

Animated screensaver with bouncing skeletons having good time at a graveyard during the Halloween night.
Other software in this category

Spring Wildflowers Screen Saver 1.3
ACEZ

Brighten your desktop with colorful spring wildflowers.

Only Kostroma Screen Saver 1.0
Only Screen Savers Group

Only Kostroma Screen Saver contains the big-size high-quality images of Kostroma town with amazing transition effects.

Best Ottawa's landscapes 2.0
Bersoft Inc.

Salvapantallas que incluye 24 hermosos pasajes de Ottawa, Canada.

Matrix Reloaded Screensaver 1.6
Winsquad.net

The Matrix Reloaded screensaver is a freeware openGL Matrix Screensaver that truly captivates the spirit of The Matrix movie, Matrix Reloaded and Matrix Revolutions sequels.

Ghost Forest Screen Saver 1.5
Enev Design & Consulting

A beautiful collection of hand-painted, children-safe screen savers.