Performance Pinging 2.0.1

Developer:
Carsten Schmidt
software by Carsten Schmidt →
Price:
0.00
License:
Freeware
File size:
0K
Language:
OS:
Windows XP/Vista

(?)

Rating:

0

/5 (0 votes)
tags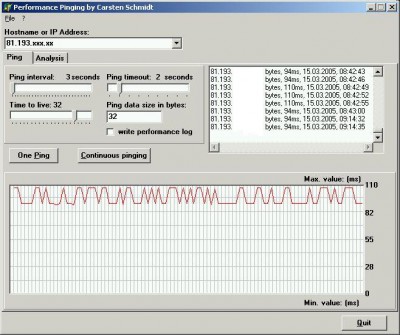 Download Performance Pinging 2.0.1

Download Performance Pinging 2.0.1

Authors software

Performance Pinging 2.0.1
Carsten Schmidt



Interface Traffic Indicator 1.5.0.3
Carsten Schmidt

Interface Traffic Indicator is an utility that requests IN/OUT octet data (MIB2) from SNMP-capable network interfaces.

FDBGet 1.2.3
Carsten Schmidt

How does it work and what does it do? Simply enter the IP address of your switch and its SNMP read community in the fields and press the Retrieve Table button to get the list.

Squid Efficiency Analyzer 1.1.0
Carsten Schmidt

Squid Efficiency Analyzer - open a log file and start analysis.

SNMPGetSet 1.0
Carsten Schmidt

SNMPGetSet is a little tool to get and set SNMP standard data and individual data.
Similar software
Other software in this category

Performance Pinging 2.0.1
Carsten Schmidt



TrafficEmulator 1.8.3
Nsasoft llc.



Port Detective 2.0
Tzolkin Corporation



RoboTest 2.0.7
Hahn Technology, Inc.



Paessler SNMP Tester 3.2
Paessler AG