Paessler SNMP Tester 3.2

Developer:
Paessler AG
software by Paessler AG →
Price:
0.00
License:
Freeware
File size:
0K
Language:
OS:
Windows Vista

(?)

Rating:

0

/5 (0 votes)
tags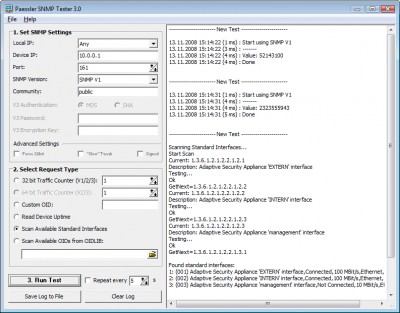 Download Paessler SNMP Tester 3.2

Download Paessler SNMP Tester 3.2

Authors software

Paessler URL Recorder 1.0
Paessler AG

Paessler URL Recorder helps to find out the URLs and POSTDATA strings that a user sends to a web server while surfing a sequence of URLs.

Bello Network Monitoring WinGUI 5.3.3.642
Paessler AG

Our on-demand monitoring service makes it easy and affordable to detect network and website failures early, minimizing downtime and avoiding economic impact.

IPCheck Mobile GUI 2.0.2407
Paessler AG

IPCheck Mobile GUI will help organizations to monitor critical network resources and detect system failures or performance problems on a PocketPC, using Paessler's IPCheck Technology.

Paessler SNMP Tester 3.2
Paessler AG


Similar software
Other software in this category

Performance Pinging 2.0.1
Carsten Schmidt



TrafficEmulator 1.8.3
Nsasoft llc.



Port Detective 2.0
Tzolkin Corporation



RoboTest 2.0.7
Hahn Technology, Inc.



Paessler SNMP Tester 3.2
Paessler AG