JeniuS 1.64.4

JeniuS is an universal file organizer.

Developer:
JockerSoft
software by JockerSoft →
Price:
0.00
License:
Freeware
File size:
0K
Language:
OS:
Windows Vista

(?)

Rating:

0

/5 (0 votes)
JeniuS is an universal file organizer. It let you organize your file in macro (audio, video, images...) and micro categories (author, genre, album, movie, photo, icon..)

JeniuS is a software that allows you to organize your files.

Files can be inserted into user-defined albums (ie: a music files collection) or into automatically generated ones. For every album you can specify the artist's name, a short description, an image (ie: the CD cover or the movie poster), the year and the gender.

Every file will be deeply analyzed and the most important informations will be extracted: these informations are stored in JeniuS' library and are used to catalog the file in the categories it fits best and to be able to find it easily in a second time.

There are several ways to find again a file stored in the library: considering an audio file, you can select an album, artist or genre; show all audio files and then filter results; perform a basic or advanced search combining more search parameters; open the folder the file is stored in.

Selecting one or more files all the informations detected and inserted by the user are shown. Clicking on them are displayed all the files that have the same info.

It is possible to rate and express a comment on every file. This lets JeniuS generate an automatic playlist according to users' tastes in fact of music, letting him listening for ex. only the music he likes most. Files not yet opened are indicated with a different color.

JeniuS also contains a powerful batch file renamer: it's functions vary from the simple word substitution to the automatic common errors correction, from inserting a progressive number to convert filenames in H4(K3R ("hacker", useless function but nice)

In JeniuS is integrated a versatile multimedia player that supports several audio and video formats

Highly configurable and with a nice user interface, JeniuS is a file organizer suitable for all file formats with various optimizations and special functions for multimedia files.


Requirements
Microsoft .Net Framework 1.1

tags

the file all the every file and the organize your you can file organizer

Download JeniuS 1.64.4
Authors software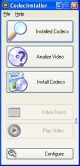 CodecInstaller 2.1
JockerSoft

CodecInstaller is an application that detects which Audio&Video codecs are installed on your computer and suggests you to install the ones necessary to correctly view the movie it is distributed with: in fact it's designed to be burned on a CD together with a compressed video, to be always able to play them.

SplitFile 1.4
JockerSoft

SplitFile was designed to split (chop) a big file in small segments in order to be able to store them in floppy disks or CD (or in any other device).

JeniuS 1.64.4
JockerSoft

JeniuS is an universal file organizer.

EyeRoller 1.0
JockerSoft

Make fun of your colleagues and friends: import their face in EyeRoller and see their eyes follow your mouse pointer! The result will be incredibly entertaining, and a nice surprise for them :-) Once you have create a new face you can share it with the world and download the best faces you find from EyeRoller faces gallery.

JockerSoft Startup Delayer 1.4.6
JockerSoft

Startup Delayer allows you to speed up your Windows' boot: when Windows boots, it loads at the same time a lot of programs (ie: Antivirus, firewall, office quickstart bar, mouse manager, messenger.
Similar software

JeniuS 1.64.4
JockerSoft

JeniuS is an universal file organizer.

KCatalog 1.0
Krishnakumar

KCatalog is an Multimedia catalog tool which allows you to organize huge collection of MP3/Movie files in your hard disks, CD's, DVD's or any other media.

Fresh View 7.15
Freshdevices

Fresh View gives you the ability to organize and view multimedia files (images, audio, video).

MP3 Hint 2.00
Piotr Chodzinski

MP3 Hint is an InfoTip Shell Extension.

DataMPX V1.51
MPX center

DataMPX is an application that helps you organize your mp3 files saved on your CD's and hard drives.

RockNAudio 2.7
RocknAudio

RockN Audio is an easy way to find and organize your music, giving you ultimate control of your MP3 / WAV and CD music collection.

SC Audio Converter 7.2.0.0
SoftwareClub.ws

SC Audio Converter software represents an universal audio file converter, that will supports all popular audio formats: WAV PCM, MP3 (MPEG Layer-3), WMA (Windows Media Audio), CDA, ALF2, ADPCM, GSM, DSP, A-LAW, U-LAW and Ogg Vorbis.

123Tag 5.7.0
Alberto Farinelli

123Tag is an easy-to-use MP3 Tag editor and file renamer, simple to use to manage the information stored into MP3 files (ID3v1 and ID3v2 Tags).

Media Catalog Studio Lite 5.5 build 138
ManiacTools

What is Media Catalog Studio? It is the program that can manage catalogs of all multimedia files in your collection.

MP3's Utilities 1.6.31
Emiliano F. Martín

MP3's Utilities, is a package which contains 6 different applications.
Other software in this category

SafeCopy Free! 2.6.1
Elwinsoft

SafeCopy Free! is a program that manages to copy files and keep date/time stamps.

Rename It 3.05b Build 0916
Kobonet.com

Rename It is an useful software application that renames files on your computer.

TreeSize 2.0.0.64
Joachim Marder

TreeSize will tell you where precious HDD space has gone to.

fsum 2.52
SlavaSoft Inc

fsum is a free fast command line utility for file checksum generation/verification.

KFK 3.9.1.32
The Katarn Corp

KFK was created as a file splitter/rebuilder with CD burning capabilities.