GoodSync 10.5.5

Good Sync is FREE file and folder synchronization software for Windows.

Developer:
Siber Systems Inc
software by Siber Systems Inc →
Price:
0.00
License:
Freeware
File size:
0K
Language:
OS:
Windows Vista

(?)

Rating:

0

/5 (0 votes)
Good Sync is FREE file and folder synchronization software for Windows.

GoodSync uses an innovative synchronization algorithm to synchronize your data between desktop PCs, USB drives, laptops and more. Good Sync combines bulletproof reliability with an extremely easy-to-use interface.


GoodSync features
Easy to Use Windows Interface
Do routine multiple folder synchronizations with one click.

Automatic, on-screen, context sensitive hints.

Minimal questions asked before file sync starts.

Multilingual user interface with localized file names support

Performs real all-way file and folder synchronization

File modifications and deletions are stored in a database.

The innovative algorithm does not rely on file system precision or accuracy.

Actual folder (directory) synchronization.

Virtually any file system is supported

Can be used in various scenarios

Sync data between your desktop PC and laptop (notebook).

Update and backup files over a local network or the Internet.

Synchronize more than 2 directories.

Do data replication and backup between home and work computers.

Synchronize a removable (USB key, flash drive, CDRW) device with a local drive. You will combine the performance of local file devices with the absolute mobility of a removable drive. And don't be so afraid of losing your USB key or even of your hard drive crashing: be at ease, knowing you have kept a copy of your most important data

Note: Good Sync is free for moderate personal use only

tags

good sync and backup usb key file system folder synchronization file and and folder data between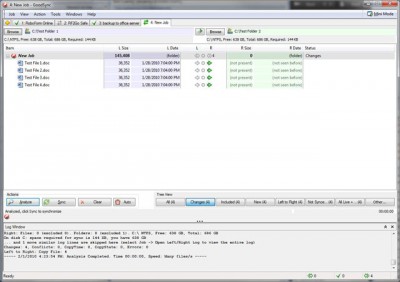 Download GoodSync 10.5.5
Authors software

GoodSync 10.5.5
Siber Systems Inc

Good Sync is FREE file and folder synchronization software for Windows.

AI Roboform Toolbar for Firefox 6.8.7
Siber Systems Inc

Add RoboForm Toolbar to Firefox.
Similar software

GoodSync 10.5.5
Siber Systems Inc

Good Sync is FREE file and folder synchronization software for Windows.

Allway Sync 12.2.3
Usov Lab

When you work, even just occasionally, on multiple computers, you usually want your files to be where you are.

Sync Last Files 1.2
KutinSoft.com

Sync Last Files is simple but very usefull synchronization tool.

qFileSync 2.0.65
David Piepgrass

qFileSync will keep the folders content (two or more) syncronized (identical).

JR Sync 1.2
JRLogic

JR Sync is a FREE, flexible and configurable file synchronization utility which allows you to specify Source and Destination directories.

SyncBack 3.2.14.0
MJLSoftware

SyncBack is a freeware file backup & synchronization program that can be used with hard drives, rewritable CD's & DVD's (formatted with UDF), removable media (e.

1-abc.net Folder-To-TXT 1.01
1-abc.net

Do you know this situation? You just burned a disk, you collected some data on a USB stick or you simply organized some files on your local hard drive.

CPPBackup 1.5.1 build 45
CPPLab

CPPBackup software is a free, easy to use and powerful software that was designed to backup your critical data to a local disk, the Network Neighborhood or remote FTP servers.

Vembu StoreGrid Backup Software - Free Edition 2.0.1
Vembu Technologies

Vembu StoreGrid is an innovative, trusted intranet peer-to-peer backup software to backup desktop and laptop data with no additional storage hardware.

PowerFolder 9.3.120
Christian Sprajc

PowerFolder is a free peer to peer application which lets you synchronize whole folders over the internet or local network.
Other software in this category

Prevent Deletion 1.0
Mohammad Saiedi

Using this program you can prevent the deletion of certain files/folders on a shared drive in your network.

SectorSpyXP 2.1
Lexun Freeware

SectorSpy examines hard drive or diskette information at the sector level.

BackupGenie 1.7
Universal Technologies

BackupGenie will be easily configured to do many backup tasks of directories and files.

DrvImagerXP 2.2
Lexun Freeware

DrvImagerXP restores and creates images of FAT32 and NTFS drive partitions for the Windows2/XP operating systems.

DrvClonerXP 2.1
Lexun Freeware

DrvClonerXP copies a whole drive partition byte-for-byte, sector-by-sector, directly to another drive partition, producing an exact reproduction (clone) of the original partition.