Delete History Free 2.3

Delete History Free - delete browser history software (freeware).

Developer:
DeleteHistoryFree.com
software by DeleteHistoryFree.com →
Price:
0.00
License:
Freeware
File size:
0K
Language:
OS:
Windows Vista

(?)

Rating:

0

/5 (0 votes)
Delete History Free - delete browser history software (freeware). All information about web sites you visit is stored in the Browser History Files and anyone who has access to your computer can see what web sites you visited.

Use Delete History Free to delete Internet History (search history) in Internet Explorer, Netscape, Firefox, Mozilla and Opera.

"Delete browser history" feature also includes deleting address bar history (URL AutoComplete).

"Delete history" option for Internet Explorer is combined with index.dat file deleting and deletes the path you used for the last file(s) saving.

"Delete browser history" feature for Mozilla, Firefox, Opera includes deleting tracks of recently downloaded files (deletes download list).

Using Using Delete History Free you can also delete Windows Temporary files, clear Clipboard, delete Recent Documents list, empty Recycle Bin.
tags

delete history browser history delete browser history free includes deleting history feature web sites sites you internet explorer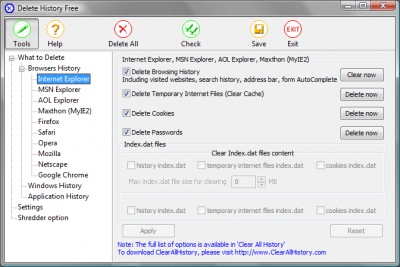 Download Delete History Free 2.3

Download Delete History Free 2.3

Authors software
Similar software

Delete History Free 2.3
DeleteHistoryFree.com

Delete History Free - delete browser history software (freeware).

System Cleanup 1.6
Frank van der Sluijs

Find and remove temporary, cache, history and backup files on all your local drives.

CleanMOCache 1.10
ButtUglySoftware

CleanMOCache is a free (for 1 - 2 systems), very powerful Mozilla/Netscape/Firefox/Opera and Windows XP cleaner.

CleanCache 3.1
ButtUglySoftare

CleanCache is a free (for 1 - 2 systems), very powerful Internet Explorer 6.

Index.dat Suite 2.9.7
Ur I.T. Mate Group

Index.

D-Plus+software Cleaner 2007
D-Plus+Software

D-Plus+Software Cleaner 2006 can permanently delete the history of your Internet and past computer activities.

IEasy Cleaner 2.5
Amplusnet

IEasy Cleaner is an efficient Internet Explorer Privacy Protection Solution that will erase all your online activity tracks such as browser cookies, history and temporary files.

IE History Manager 1.0 build 20061207
Cleanersoft.com

IE History Manager is a small software that helps you to manage your Internet History.

Sakina Privacy Protector 4.0.4
Best Security Tips

Sakina Privacy Protector is an easy and secure application to clean activity and history traces and securely delete online Internet tracks stored in your browser and in hidden files.

Free Internet Window Washer 4.0
Eusing Software

Free Internet Window Washer is a free and easy to use software that will safe guard your privacy by cleaning up the tracks of your activities on your PC and the Internet.
Other software in this category

DirectX Buster 2.1 Beta 4 Build 41
Dominik Schindler

DirectX Buster is a DirectX uninstaller for Windows 9X, ME and W2K.

Detonator 30.xx To 40.xx Fix 1.1.1
Jester2K Software

Tool for removing the elements of the Detonator 30.

CHAOS Shredder 3.0
Security Resources Group

CHAOS Shredder is a useful software which deletes selected files and folders, freespace, recycled bin, temporary data, temporary internet files, cookie, history, last documents list.

Cookie Guard 1.0
John Marcovich

Cookie Guard is a tool that will erase the cookies from your computer.

LockJar 2.1
The Iron(FE)-Works

LockJar gives you total control over the Internet browser cookies that are placed on your machine.