The Calculator 1.2.2

The Calculator is small and handy.

Developer:
Delta-Z Software
software by Delta-Z Software →
Price:
0.00
License:
Freeware
File size:
0K
Language:
OS:
Windows Vista

(?)

Rating:

0

/5 (0 votes)
The Calculator is small and handy.

The Calculator works with various types of notation and supports bit operations, compound expressions, unlimited number of user variables and constants.


The Calculator features
User Variables. In computations, you can save your intermediate results in variables for further use.

User Constants. Some frequently used values, such as physical and
mathematical constants, may be written in a special file, and then
used in your computations by name, just like variables. The difference
is, in fact, that you can't change a constant.

Value Suffixes. Very small or very large values (such as
micrometers, megahertz, picofarads, etc.) are often used in
engineering computations. For input simplification, we invented a
system of value suffixes. A suffix is a letter, which is added to the
number value and indicates that the calculator must multiply this
value by the specific coefficient.

Simplified notation of expressions with parentheses. When
multiplying by an expression within parentheses, you may omit the "*"
symbol.

Last input string memorizing

Hot key call. When The Calculator is running, press the Num Lock key
to hide or show the main program window.

Autorun

Size, font and color setup

tags

the calculator value suffixes values such you can user variables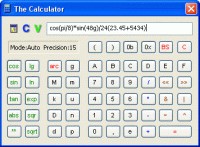 Download The Calculator 1.2.2
Authors software

The Calculator 1.2.2
Delta-Z Software

The Calculator is small and handy.
Similar software

The Calculator 1.2.2
Delta-Z Software

The Calculator is small and handy.

AceIT Calculator 2.0
AceIT Software

AceIT Calculator is an application built as a comprehensive, easy to use, FREE expression calculator.

A Better Calculator 2.10
Callum

A Better Calculator is a very powerfull calculator which is more powerfull every few months.

Console Calculator 2.2.0
Scott Cogan

Console Calculator quickly evaluates simple and advanced mathematical expressions, remembers recent entries, allows creation of user defined variables and custom functions.

HEXelon MAX 6.04
Jerzy Znamirowski

HEXelon MAX is a freeware math calculator, currency converter, units converter.

The DME Calculator 2.1
DME - Danish Micro Engineering A/S

The DME Calculator is a free, advanced calculator for windows.

ES-Calc 2.2d
Steven Folkman

ES-Calc is a calculator and unit conversion program designed to be used by scientists and engineers.

Math Solver II 1.1.2.54
Jan Ivar Goli

Math Solver is a free and useful scientific calculator.

Papertape Calculator 3.1
Mark Albert

Papertape Calculator is a free calculator program with one important difference.

Math Solver 1.2.11.56
Jan Ivar Goli

Math Solver is a scientific calculator.
Other software in this category

City'O'Scope 1.2.1
Macrofocus GmbH

Where in the world should you travel - or perhaps even relocate - to pay less, earn more, and improve your living conditions? To help you answer this complex question, Macrofocus releases City`O`Scope, a free interactive tool for visually analyzing prices and earnings around the world.

Securo - Credit Card Security and Protection for Online Shopping 2.4
Idium

Securo provides Credit Card Security & Privacy Protection for online shoppers by checking and approving shopping sites in real time.

Ariacom Business Reports 6.2a
Ariacom

Ariacom Business Reports is a database reporting and multi-dimensional analysis tool with dynamic SQL generation.

CalcuWage 2.61
kwiqMAD

CalcuWage is a small unobtrusive, fun program that calculates your wage each second as you work.

EuroCalc 2.1
alexSofts

EuroCalc is a free calculator and converter.