EuroCalc 2.1

EuroCalc is a free calculator and converter.

Developer:
alexSofts
software by alexSofts →
Price:
0.00
License:
Freeware
File size:
0K
Language:
OS:
Windows Vista

(?)

Rating:

0

/5 (0 votes)
EuroCalc is a free calculator and converter.

EuroCalc specifications :

- Stays on top option.
- Remove double display conversion option.
- Remove virtual keyboard option.
- Knows Euroland currencies.
- Copy and Paste functions.
- Decimals place adjustement.
- Memory value display.
- Really free for all usages. No limitations. It's not an adware and requires no registration.

This software is free for private and professionnal usage.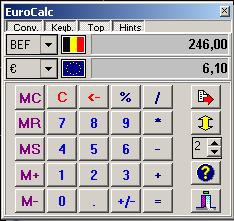 Download EuroCalc 2.1
Authors software

EuroCalc 2.1
alexSofts

EuroCalc is a free calculator and converter.
Similar software

EuroCalc 2.1
alexSofts

EuroCalc is a free calculator and converter.

Free Option Calculator 1.42
TraderSoft

Free Option Calculator was designed as a free solution for option traders.

Willy's Calculator 2.06
Willy Vanhaelen

Here are some key features of "Willy's Calculator": · A history pane offering the versatility of a control tape ("Tally roll").

Option Pricing Calculator 1.0.0
OTrader Software

Option Pricing Calculator is a free and useful option pricing calculator that can be used to calculate: Call Price, Put Price, Gamma, Delta, Theta, Vega, Implied Volatility.

DLL Export Viewer 1.66
Nir Sofer

DLL Export Viewer displays the list of all exported functions and their virtual memory addresses for the specified DLL files.

NikPad 1.0.0
B. Nikhil Baliga

NikPad - a free text editor with awesome features like a temporary clipboard where you can store whatever you want, how many ever you want, a mini encryption-decryption, a built in text to speech converter (requires xvoice.

Change 0.0.0.1
Reivax

Change is a free currency double-clic-conversion toolbar.

Meminfo 1.80 SR2
Carthago Software

MemInfo will display the current memory usage in the system tray.

Box Spread Option Calculator 1.0
Daniel McNulty

Box Spread Option Calculator is a software that calculates if there is an oppurtunity in an option chain for setting up a box spread.

Moffsoft FreeCalc 1.2.0.6
Moffsoft

Moffsoft FreeCalc is a great replacement for your existing Windows calculator.
Other software in this category

City'O'Scope 1.2.1
Macrofocus GmbH

Where in the world should you travel - or perhaps even relocate - to pay less, earn more, and improve your living conditions? To help you answer this complex question, Macrofocus releases City`O`Scope, a free interactive tool for visually analyzing prices and earnings around the world.

Securo - Credit Card Security and Protection for Online Shopping 2.4
Idium

Securo provides Credit Card Security & Privacy Protection for online shoppers by checking and approving shopping sites in real time.

Ariacom Business Reports 6.2a
Ariacom

Ariacom Business Reports is a database reporting and multi-dimensional analysis tool with dynamic SQL generation.

CalcuWage 2.61
kwiqMAD

CalcuWage is a small unobtrusive, fun program that calculates your wage each second as you work.

EuroCalc 2.1
alexSofts

EuroCalc is a free calculator and converter.