Replicator 11.3

Replicator is an auxiliary application for HostMonitor.

Developer:
KS-Soft
software by KS-Soft →
Price:
0.00
License:
Freeware
File size:
0K
Language:
OS:
Windows Vista

(?)

Rating:

0

/5 (0 votes)
Replicator is an auxiliary application for HostMonitor. It is not included into Advanced Host Monitor package however it is free for licensed owners of Advanced Host Monitor.

Although Replicator is a very small application it serves to save you huge amounts of time. Those who have large networks with hundreds of servers will appreciate the ability to replicate a test (i.e. reproduce and apply to...) for an array of systems in almost an instant.

For example if you have a CPU Usage test that works on one machine, with the help of a Replicator you may reproduce the same test for every workstation without a hassle of setting the parameters of each of them separately.

You may obtain this product with any version of Advanced Host Monitor.
tags

advanced host host monitor you may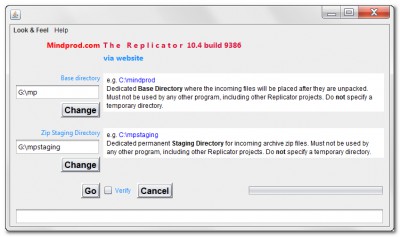 Download Replicator 11.3
Authors software

MIB Browser 2.12
KS-Soft

MIB Browser is a useful program with the help of which you can view the hierarchy of SNMP MIB variables in the form of a tree and provides you with additional information about each node.

WMI Explorer 1.16
KS-Soft

WMI is an acronym for Windows Management Instrumentation.

Replicator 11.3
KS-Soft

Replicator is an auxiliary application for HostMonitor.
Similar software

Replicator 11.3
KS-Soft

Replicator is an auxiliary application for HostMonitor.

Roadkil's Monitor Test 1.2
Roadkil

Monitor Test displays test patterns for checking monitor when repairs are being performed.

Nokia Monitor Test 1.0.0.1
Nokia

Nokia Test is a collection of test sthat can be used to check CRT monitor performance.

Free CD Replicator 2.1.0.0
Promosoft Corporation

Free CD Replicator is designed to ensure that you can convert any audio file into any possible format so that you can play the music in your car, on your MP3 player or most flash based players.

VNC Flaw Test 2.0
IntelliNavigator Inc

VNC Flaw Test - Test your VNC installations for vulnerability It was almost over a month ago that we discovered a major vulnerability in VNC 4.

Karen's Replicator 3.3.5
Karen Kenworthy

Automatically backup files, directories, even entire drives! Karen's Replicator copies selected files from one drive/folder to another.

Link Monitor 2.0
Dracula

Link Monitor is an application that will check an Internet or network connection by pinging a specified host.

Emsa FlexInfo Pro 1.0.125
EMSA SYSTEMS LTD

Emsa PC FlexInfo Pro is a comprehensive system information and diagnstics utility.

CheckeMON 1.1
Wong Ying Kit

CheckeMON will let you test your current monitor or you can use this software when buying a new one.

ISP Monitor 5.3.5
How2 Studios

ISP Monitor will tell you about your current bandwidth usage but will also show the bandwidth stats recorded by your provider.
Other software in this category

Alchemy Ping 1.0
Alchemy Lab

Alchemy Ping is a FREE graphical replacement for the standard Windows "ping" utility.

PingIt 2.0
Desktop Software

The Program is a free program and intended for monitoring speed of your internet connections or monitoring of speed to certain IP-address.

EyeOnSite 1.8.0.158
Virdi Software

EyeOnSite is a program that will keep an eye on your sites or servers to see if they are accessible on the net.

Active Network Monitor 2.01
SmartLine, Inc.

Active Network Monitor lets system administrators gather information from every computer on the network without installing server-side applications.

AlertPingPro 2.7.8
P&S Group

While your hosts are hanging-up,your income is falling.