Password Guru 1.1.320

PasswordsGuru is a useful, free, powerful and convenient passwords generator.

Developer:
CEZEO software
software by CEZEO software →
Price:
0.00
License:
Freeware
File size:
0K
Language:
OS:
Windows Vista

(?)

Rating:

0

/5 (0 votes)
PasswordsGuru is a useful, free, powerful and convenient passwords generator. Nowadays, it is essentially important for passwords to be exceptionally secure. And it is not that easy to create a secure password.

That is why we have developed a freeware application PasswordsGuru. In fact, this application is a part of another one of our programs, SecureWord, which works for both storing and generating passwords, and has convenient user-friendly interface.
tags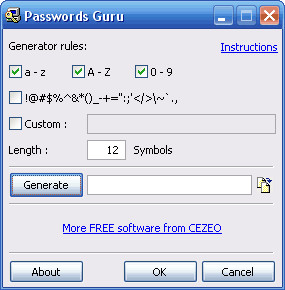 Download Password Guru 1.1.320

Download Password Guru 1.1.320

Authors software

BackUpTime 1.6 build 3633
CEZEO software

We have created BackUpTime just for that reason: to provide you with a way to securely store your most important data.

Disk Redactor 2.1.331
CEZEO software

Disk Redactor is a WIPE utility, that prevent restoration of the old ( deleted ) files at your disks.

Net-Send command 1.1.458
CEZEO software

Small console utility that can be used to send the messages from an command line, like Net send command in the Windows NT, Windows 2000, Windows XP and Windows 2003 Server.

Winpopup NET messenger 1.3.294
CEZEO software

WinPopup is a network program for Windows that will allow you to send messages from one computer to another on the same network.

Password Guru 1.1.320
CEZEO software

PasswordsGuru is a useful, free, powerful and convenient passwords generator.
Similar software

Password Guru 1.1.320
CEZEO software

PasswordsGuru is a useful, free, powerful and convenient passwords generator.

Passwords Guru 1.0.1
CEZEO software

Passwords Guru was created to be a powerful and convenient passwords generator.

LTC Password Generator 1.0
Lowes Technologies Consulting

LTC Password Generator can be used to generate passwords of specified length.

Free Random Password Generator 1.0
FreeRandomPasswordGenerator.com

Free Random Password Generator is easy-to-use free password creator application for Windows.

Pwd-Gen 1.3
Florian Robardet

Pwd-Gen is a small application that was developed to be a random password generating tool.

Password Safe 3.0
Password Safe Company Ltd

Password Safe keeps your passwords and data secure with 256-bit encryption.

Era Password Manager 1.0.70131
Dheone Int.

Era Password Manager is a software that keep your any password secure Era Password Manager (EPM) is created specially to relieve computer users of headaches about lost passwords, typing usernames, passwords and storing securely valuable information.

SecurePassword Generator 0.5.4
Jeremy Gillick

SecurePassword Generator provides a dialog that you can use to create secure passwords.

Scarabay 2.8
AlNiChas

SCARABAY is a useful and free passwords manager utility that can save and protect logins, passwords and any secret information, Drag-And-Drop identity fields to any forms, SCARABAY is easy and convenient, the program provides reliable encryption, has a convenient interface and a built-in passwords generator.

Atory Password Generator 1.2
Atory Tools

Atory Password Generator is a tool for random password generation.
Other software in this category

Password Corral 4.0.3
Cygnus Productions

Password Corral is a popular freeware password manager with a clean, easy to use interface, strong encryption and that includes all the features you would expect from a comercial program.

PINs 4.50.0.86
Mirek Wójtowicz

PINs is a program for safe storing of any secure information like passwords, accounts, PINs, and more.

Password Scrambler 1.0
Onepassword.com

How many password-protected sites do you go to? Can you remember all the passwords you use, or do you end up using the same password everywhere? What if one of these sites was compromised, and your password was stolen? Have you ever frantically tried every password you know in the hope that's the right one? What if the site is recording all those attempts? Password Scrambler allows you to automatically present unique passwords to the sites you visit, generated from a unique master password you choose.

Any Password 1.44
RomanLab Software

Any Password is a tool that lets you store and arrange all your passwords, UserIDs, and related information in a tree form.

Cresotech DesktopSafe Lite 1.12
Cresotech, Inc.

Cresotech DesktopSafe is a convenient tool for safe storage of confidential information.