Password Assistant 1.0

Password Assistant a complete solution to check your current passwords & generate new, strong passwords.

Developer:
Moon Valley Software
software by Moon Valley Software →
Price:
0.00
License:
Freeware
File size:
0K
Language:
OS:
Windows Vista

(?)

Rating:

0

/5 (0 votes)
Password Assistant a complete solution to check your current passwords & generate new, strong passwords. Whether your computer use is at home or in a small company or large corporation, Password Assistant is an important tool for today's security requirements and privacy policies. Password Assistant gives you a variety of options that helps you to meet and exceed corporate, government or mandated password strength requirements.

New, strong Passwords are generated that are very difficult to break. Numerous options assist you in generating passwords that are easier for you to memorize featuring; Dictionary based and Pronounceable passwords in addition to Random word types. Use optional settings for variable password length, use of character types Alpha (Letters), Numeric (Numbers), Punctuation (! , ? . + etc.). Mix it up with case variations; all upper case, (Capital letters), lower case, (small letters) or mixed case, (Both upper and lower case).

Use character exclusions and substitutions to avoid common password flaws and trip up brute force attempts to break a password. With character substitution you specify characters that will replace others and are easily entered and maintained to periodically alter your mix.

When you've completed your password options and settings, output your passwords to the ClipBoard for convenient cut and paste use, a File for later use and screen to preview the results of your selections. Easily Save your settings and options or restore setting to defaults to start over.

The Password Analyzer helps you determine if you have a secure password. Type in your password and see a brief assessment on the strength and efficacy of your password Should your password be ineffective, you will see a brief recommendation on what changes are recommended to strengthen your password. See analysis and estimates on the number of computer cycles and how long a computer will take to break your password.
tags

your password password assistant lower case that are helps you new strong strong passwords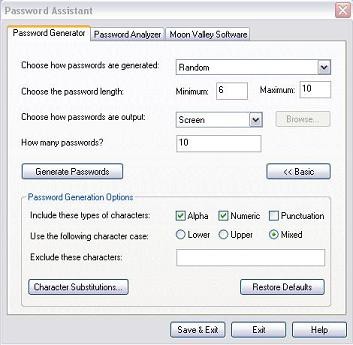 Download Password Assistant 1.0

Download Password Assistant 1.0

Authors software

Windows Animated Gif Player 1.0
Moon Valley Software

This is a full-featured, streamlined program built using ActiveX to view animated .

Windows .swf Flash Player 1.0
Moon Valley Software

Windows .

Windows midi/wav MCI Player 1.0
Moon Valley Software

This is a Windows MCI Player for listening to .

Windows Mp3 Player 1.0
Moon Valley Software

Windows Mp3 Player is a full-featured Mp3 player with the ability to play, stop, pause and seek forward/backward arbitrarily.

Windows Registry Tool 1.0
Moon Valley Software

This is a full-fledged application for modifying the system registry on a Windows computer.
Similar software

Password Assistant 1.0
Moon Valley Software

Password Assistant a complete solution to check your current passwords & generate new, strong passwords.

Free Random Password Generator 1.0
FreeRandomPasswordGenerator.com

Free Random Password Generator is easy-to-use free password creator application for Windows.

Atory Password Generator 1.2
Atory Tools

Atory Password Generator is a tool for random password generation.

Password Partner 1.5.6
Home Plan Software

Password Partner was written for your use.

Webmaster Password Generator 1.20
Tropic Designs

A powerful and easy to use Password Generator program for Webmasters and all web users.

Password Safe 3.0
Password Safe Company Ltd

Password Safe keeps your passwords and data secure with 256-bit encryption.

Password Construction Kit 2.1
ButtUglySoftware

Password Construction Kit allows you to generate large lists of secure password, which can be exported to various delimited file formats (csv, xml, html etc.

Password Gorilla 1.4
Frank Pilhofer

Password Gorilla is an application that helps you manage your logins and passwords.

LTC Password Generator 1.0
Lowes Technologies Consulting

LTC Password Generator can be used to generate passwords of specified length.

Random Password Generator 1.0
Dirk Paehl

Random Password Generator generates any quantity of passwords with one mouse click.
Other software in this category

Password Corral 4.0.3
Cygnus Productions

Password Corral is a popular freeware password manager with a clean, easy to use interface, strong encryption and that includes all the features you would expect from a comercial program.

PINs 4.50.0.86
Mirek Wójtowicz

PINs is a program for safe storing of any secure information like passwords, accounts, PINs, and more.

Password Scrambler 1.0
Onepassword.com

How many password-protected sites do you go to? Can you remember all the passwords you use, or do you end up using the same password everywhere? What if one of these sites was compromised, and your password was stolen? Have you ever frantically tried every password you know in the hope that's the right one? What if the site is recording all those attempts? Password Scrambler allows you to automatically present unique passwords to the sites you visit, generated from a unique master password you choose.

Any Password 1.44
RomanLab Software

Any Password is a tool that lets you store and arrange all your passwords, UserIDs, and related information in a tree form.

Cresotech DesktopSafe Lite 1.12
Cresotech, Inc.

Cresotech DesktopSafe is a convenient tool for safe storage of confidential information.