Offline IP-Locate 1.1.0.10

Developer:
Fairdell Software
software by Fairdell Software →
Price:
0.00
License:
Freeware
File size:
0K
Language:
OS:
Windows Vista

(?)

Rating:

0

/5 (0 votes)
tags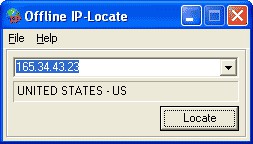 Download Offline IP-Locate 1.1.0.10

Download Offline IP-Locate 1.1.0.10

Authors software

Offline IP-Locate 1.1.0.10
Fairdell Software


Similar software
Other software in this category

IPaddress 2.51.2
Bluefive software

IPaddress - want a quick view at your IP Address? Then get IPaddress! It's a tiny utility that checks your IP Address and lets you copy it to the computer's clipboard.

Advanced IPAddress Calculator 1.1
Famatech



My IPs 1.0
Camtech 2000

My IPs is a little application that will return your actual Internet IP address even if you're behind a Firewall.

Offline IP-Locate 1.1.0.10
Fairdell Software



IPConvert 1.0
NightEffect

It displays the converted address in Full , Shorthand , and Dot Notation formats.