Mmm FREE 2.0

Every program these days seem to add their own items to the windows right-click menu.

Developer:
HACE
software by HACE →
Price:
0.00
License:
Freeware
File size:
0K
Language:
OS:
Windows XP/Vista

(?)

Rating:

0

/5 (0 votes)
Every program these days seem to add their own items to the windows right-click menu. Do they see it as a place to advertise? This menu will after a while grow all out of proportions because of the sheer number of items.

Use this free, unique utility to configure your windows menus. Remove menu-items you never use. Put rarely used functions out on a sub-menu. Keep only those functions you often use in a small, tidy base menu. Configuration is very simple, just drag and drop the menu-items where you want them to go. No adware, no spyware, no nag-screens - just free!


Mmm FREE features
Apart from the Windows Explorer and the desktop, Mmm+ also works in Internet Explorer, Outlook Express and NetCaptor.

Supports wildcards. This feature lets you move/remove items that change their names. Finally you can get rid of those pesky compression items!

Works in all normal save/open dialogs in all programs!

Works on the task-bar!

Works in the start-menu

Works on the normal menu-bar in supported programs. Ie. not just context-menus.

Lets you create your own sub-menus - as many as you like!

Lets you configure the menus in each supported program individually!

tags

lets you menu items the windows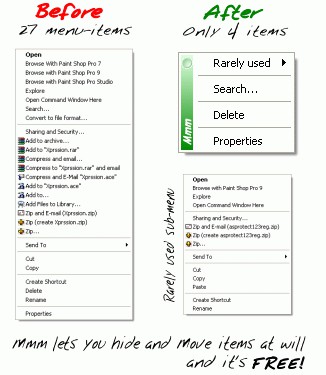 Download Mmm FREE 2.0
Authors software
Similar software

Mmm FREE 2.0
HACE

Every program these days seem to add their own items to the windows right-click menu.

Context Menu Editor 1.0
Brett Bartholomew

Context Menu Editor can view and delete links to programs on your context menus (the popup menus you see when you right-click).

Fast Explorer 3.1.11.430
Alex Yakovlev

Fast Explorer is a handy utility that will allow you to manage context menus items of file objects displayed in a file manager, such as Windows Explorer or Total Commander.

Types Popup Free 1.01
Yavsoft

This tool can be used to adjust windows popup menus for different file types and "New" menu.

Strong VMenu 1.05
StrongHtml.com

Strong VMenu is an application that builds vertical navigation menus.

More Tools Menu 1.1
Anthony Lieuallen

It's rather common for Firefox extensions to want to let the user trigger an action.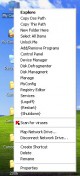 XP Context Tools 1.1.1
Camtech 2000

Add useful utilities to My Computer and Explorer Context Menu XP Context Tools is a collection of useful tools added to Windows Explorer context menu used by Camtech on a daily basis.

ShellMenuView 1.40
Nir Sofer

ShellMenuView is a small tool that display the list of static menu items that appeared in the context menu when you right-click a file/folder on Windows Explorer.

Explorer Context Menu 0.3
Shane Hird

Gives you access to the standard Windows 'right click menus' rom within Winamp for songs in the playlist.

Tray Menu Pro 3.0.0.25
GD Software Att. Brian Bergh

Easy to use System Tray menu.
Other software in this category

MOKAUNO Shell 1.0
A LAHAYE

With MOKAUNO Shell, you will enjoy animated flash wallpapers on your computer.

XPClock 1.60
Vyacheslav Ryabov

XPClock is a digital desktop clock with a calendar.

Litestep OTS1/2 Installer 3.02
Omar Hussain

For those of you picking up LiteStep for the first time you have yet to experience the power and flexibility that you can find in LiteStep.

Zigzag Cleaner 1.00
UNIPHIZ Lab

An easy-to-use utility that lets you clear the desktop with one mouse move.

Shell101 1.25
Utopic Results LLC

Shell101 is an application shell for links/shortcuts the administrator defines within the admin interface whereupon the administrator can associate the links/shortcuts with group memberships or usernames to be displayed within the client interface for the corresponding user's group memberships or username where the user can then click the links to launch the applications.