Zigzag Cleaner 1.00

An easy-to-use utility that lets you clear the desktop with one mouse move.

Developer:
UNIPHIZ Lab
software by UNIPHIZ Lab →
Price:
0.00
License:
Freeware
File size:
0K
Language:
OS:
Windows Vista

(?)

Rating:

0

/5 (0 votes)
An easy-to-use utility that lets you clear the desktop with one mouse move. Usual situation. It is urgently necessary to click desktop icon. But the whole desktop is filled with open windows. Toolbar is hidden.

From all Hotkeys I remember only Ctrl+Alt+Del. What to do?
Just start in the upper left corner and make a quick Z with your mouse. Voila, the window is gone. Zigzag Cleaner will hide applications and opened documents.

All or spare. Of course you may restore open windows in the same way quickly and easily. Just make another quick Z. Zigzag Cleaner will speed up your work considerably.
Additionally, the program collects mouse usage statistics. Only for the curious. UNIPHIZ Lab develops software for curious people.
tags

cleaner will zigzag cleaner open windows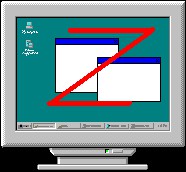 Download Zigzag Cleaner 1.00
Authors software
Similar software

Zigzag Cleaner 1.00
UNIPHIZ Lab

An easy-to-use utility that lets you clear the desktop with one mouse move.

Custom QuickLaunch 1.3
Braser Soft

Custom QuickLaunch is a useful tool that gives you a way to do what Windows forgot: keep your favorite programs within easy reach wherever you want to keep them on your desktop, with all images visible and launchable with one mouse click.

MouseActivate 1.3
Skrommel

MouseActivate will automatically activate a window or a control when the mouse hovers over it, or autoclick if the mouse is left in the same place for 1 second.

Soft191 Panic Station 1.0
Jonathan Clark

Soft191 Panic Station quickly hide all those open windows from prying eyes! Make windows (and their taskbar buttons) disappear with one click of the mouse or by pressing a hot key.

SysRunner 1.0
Vasilios Freeware

SysRunner - access almost every system or hidden Windows application, and create shortcuts on your desktop with a simple right mouse-click.

Yod'm 3D 1.3
Chris'Soft

Yod'm 3D is a virtual desktop manager that will bring to your Windows desktop the fashionable cube effect.

OneClick Hide Window 1.6
NbiSoft

OneClick Hide Window helps you to hide all active program window immediately by click left&right mouse buttons.

One Click Turkish Dictionary 0.2
TurkishDictionary

Turkish Dictionary is a software that can be used to perform dictionary lookups automatically just by pointing your mouse on a word and pressing user-defined hotkeys.

Iconoid 3.8.5
SillySot Software

Iconoid is a small program that helps reduce the clutter and confusion of the Windows desktop.

The Polite Pointer 2.1
The Noteable Software Company

The Polite Pointer hides your mouse pointer whenever typing occurs and shows it again when the mouse moves.
Other software in this category

MOKAUNO Shell 1.0
A LAHAYE

With MOKAUNO Shell, you will enjoy animated flash wallpapers on your computer.

XPClock 1.60
Vyacheslav Ryabov

XPClock is a digital desktop clock with a calendar.

Litestep OTS1/2 Installer 3.02
Omar Hussain

For those of you picking up LiteStep for the first time you have yet to experience the power and flexibility that you can find in LiteStep.

Zigzag Cleaner 1.00
UNIPHIZ Lab

An easy-to-use utility that lets you clear the desktop with one mouse move.

Shell101 1.25
Utopic Results LLC

Shell101 is an application shell for links/shortcuts the administrator defines within the admin interface whereupon the administrator can associate the links/shortcuts with group memberships or usernames to be displayed within the client interface for the corresponding user's group memberships or username where the user can then click the links to launch the applications.