Magic Window Hider 1.0.0

Hide/Unhide any application/window with ease.

Developer:
Unlimited Bandwidth
software by Unlimited Bandwidth →
Price:
0.00
License:
Freeware
File size:
0K
Language:
OS:
Windows Vista

(?)

Rating:

0

/5 (0 votes)
Hide/Unhide any application/window with ease.
Ever wanted to hide windows you did not want you boss/parents to see while u r working(or playing!!!),magic windows let's u hide/unhide windows with ease.

Also hides itself and displays the tilte of the hidden windows by pressing F7.

Just a simple program which makes you realise that Windows OS though the best desktop OS on the market is hardly any good when it comes to security.

Instructions:
Press F7 to view the window's text
Press F9 to hide any window
(The mouse pointer should be above the window)
Press F10 to unhide all windows
Press F11 to hide me
Press F12 to unhide me
Click on the Start Hide button to begin hiding windows!!!!
tags

the window with ease hide unhide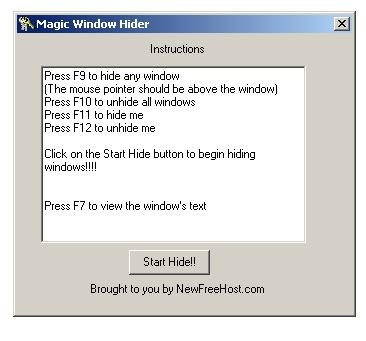 Download Magic Window Hider 1.0.0

Download Magic Window Hider 1.0.0

Authors software

Magic Window Hider 1.0.0
Unlimited Bandwidth

Hide/Unhide any application/window with ease.
Similar software

Magic Window Hider 1.0.0
Unlimited Bandwidth

Hide/Unhide any application/window with ease.

OneClick Hide Window 1.6
NbiSoft

OneClick Hide Window helps you to hide all active program window immediately by click left&right mouse buttons.

nHide 2.5.1
Crapsoft Open Source

nHide is a free and very useful open source window hider from Crapsoft.

Raunak Hide Windows 2.0
Raunak Mehta

Hide Windows will give you the solution for your cluttering taskbar.

HyperHide 1.3.10
Frontier Design Group

HyperHide allows you to take control of your desktop by making any window instantly hidden or visible with the press of a key.

Quick Hide Windows 1.8.7
CronoSoft

Quick Hide Windows by CronoSoft is great for hiding program windows with a press of a hotkey combination.

Hide Folders 2.4 Final
FSPro Labs

Hide Folders is a security tool that will hide your folders out from any prying eyes.

OuttaSight 3.21
Chris Rosa

OuttaSight is a Windows desktop utility that hides application windows in a variety of convenient ways.

Hide Windows 1.0.2311
Richard Hopkins

Hide Windows Basic will hide any desktop window with keyboard shortcuts or via its own UI.

Hide windows utility 1.0.2312
R Hopkins

Hide windows utility enables you to hide any window completly off screen quickly and easily with keyboard shortcuts.
Other software in this category

Folder Size Shell Extension 3.2
Space Dolphin

Folder Size Shell Extension is a handy shell extension that adds a new tab to the Properties dialog that displays a folder`s or drive`s size.

MouseCam 1.0
CamTech

MouseCam is a free little tool that zooms everything your cursor is over up to 20 times its normal size.

Microsoft Windows XP Plus! Service Pack 1
Microsoft Corp.

Microsoft has released an update for its addon utility: Microsoft Plus! designed for the Windows XP operating system.

ServiceManager 1.00
L5 Software Group, LLC

ServiceManager is an application designed to allow System Administrators, Developers and Power Users an easy means to view, modify or remove services and their information.

Command Finder 1.0
UCG Media

UCG Command Finder was created as a compliment for the Universal Command Guide to make it even easier, when you need a command, to find it.