JR Directory Printer 1.2

Developer:
Spadix Software
software by Spadix Software →
Price:
0.00
License:
Freeware
File size:
0K
Language:
OS:
Windows Vista

(?)

Rating:

0

/5 (0 votes)
The JR Directory Printer utility will allow the user to print
tags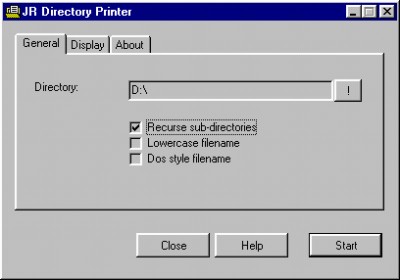 Download JR Directory Printer 1.2

Download JR Directory Printer 1.2

Authors software
JR Screen Ruler 1.4
Spadix Software

The JR Screen Ruler is a great tool that allows you to accurately measure anything on your screen.

JR Directory Printer 1.2
Spadix Software


Similar software

JR Directory Printer 1.2
Spadix Software



Karen's Directory Printer 5.1
Karen Kenworthy

No more fumbling with My Computer or Windows Explorer, wishing you could print information about all your files.

Print Queue Manager 1.10
BurnSoft

Print Queue Manager is a free and handy remote printer manager.

PrintFile 2.1.5
Peter Lerup

PrintFile is a freeware MS Windows solution that will allow you to print files fast and easily.

File Printer 1.0
SSuite Office Software

File Printer is a FREE, small and useful application.

PrintDeskTop 1.06
PrintDeskTop

PrintDeskTop lets you print the exact contents of your screen with the click of a mouse or the shortcut key of your choice.

CutePDF Writer 2.7
Acro Software, Inc

CutePDF Writer is a free PDF creator.

Send To Printer 1.0
BTT Software

Send To Printer is a simple software that enables files to be sent directly to a printer.

BullZip PDF Printer 3.0.0.164
BullZip

The BullZip PDF Printer works as a Microsoft Windows printer and allows you to write PDF documents from virtually any Microsoft Windows application.

PrintPRNtoPrinter 1.0
Nunya Business

PrintPRNtoPrinter allows you to send a PRN file (generated by printing to a printer with its port marked as FILE) to any printer installed on the system this software is run on.
Other software in this category

SafeCopy Free! 2.6.1
Elwinsoft

SafeCopy Free! is a program that manages to copy files and keep date/time stamps.

Rename It 3.05b Build 0916
Kobonet.com

Rename It is an useful software application that renames files on your computer.

TreeSize 2.0.0.64
Joachim Marder

TreeSize will tell you where precious HDD space has gone to.

fsum 2.52
SlavaSoft Inc

fsum is a free fast command line utility for file checksum generation/verification.

KFK 3.9.1.32
The Katarn Corp

KFK was created as a file splitter/rebuilder with CD burning capabilities.