i.Disk 1.91

i.

Developer:
Matthew Allen
software by Matthew Allen →
Price:
0.00
License:
Freeware
File size:
0K
Language:
OS:
Windows Vista

(?)

Rating:

0

/5 (0 votes)
i.Disk - Ever wanted to know where all the used space on your hard disk was hiding?
i.Disk scans directory trees and displays the total space used by each directory in an easy to use form. You can drill down into the directorys to understand the layout of space. And when you want to clean up your disk there are same handy tools there to help. The directory called '.' is the space used by files in the base directory you are scanning from.

i.Disk is a software that allows you view disk space.


Usage:
Browse to a directory -or- click on one of the disks listed on the left to start scanning. Once the scan is complete the red cancel button will grey out. The entry marked "." relates to the files in the directory your scanning from and not any of the subdirectories. If you attempt to delete this then you'll be deleting the directory you scanning from and all files and folders contained within. This is probably not what you intended. Especially if you scanning a whole disk (i.e. C:)
Then you can open any sub-directories by clicking the '+' next to the name.

Each entry in the list has a right click menu to:

Touch...
This sets the modified time on a set of files in the subdirectory and all it's children to the current time. You can specify multiple extensions by separating with space character, e.g.:
*.gif *.png *.html
Delete Files...
This deletes some or all of the files in the subdirectory and all it's children. The directories are left intact. You can specify multiple extensions by separating with space character.
Delete Directory...
This deletes all of the files and directories in the subdirectory then removes the subdirectory as well.
tags

the subdirectory you can the files scanning from and all the directory multiple extensions specify multiple separating with with space this deletes space character can specify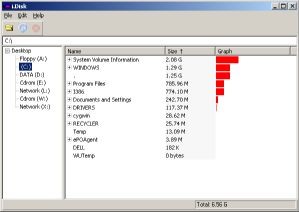 Download i.Disk 1.91
Authors software

XpAssociate 0.20
Matthew Allen

XpAssociate is a small little tool for munging XP's registry so that the correct app actually starts when you open a file.

i.Mage 1.01
Matthew Allen

i.

Roll Credits 0.10
Matthew Allen

Roll Credits takes a still image and makes a scrolling credits AVI out of it, by starting with all black and then scrolling the image from the bottom up at the specified rate, until the bottom of the image has scrolled past the top of the screen and then it stops.

Ted 2.52
Matthew Allen

Ted is a simple little text editor.

i.File 0.3
Matthew Allen

i.
Similar software

i.Disk 1.91
Matthew Allen

i.

Du v 1.00 r 7
Mark Russinovich

Du (disk usage) will report the disk space usage for the directory you specify.

DirSpace 2.0
Fresh Software

DirSpace is a freeware program to scan a directory (folder) structure for total files and used disk space.

Directory Sizes 1.4
Amir Geva

Directory Sizes is used to scan, display and export all sirectory subtrees with sizes.

HDCleaner 2.364
Kurt Zimmermann

HDCleaner clears the fixed disk and removes unnecessary file garbage from all available drives.

Disk Redactor 2.1.330
CEZEO software

Disk Redactor is a WIPE utility, that prevent restoration of the old ( deleted ) files at your disks.

CleverCleaner 1.2.3
Sliver

CleverCleaner can save you work and time, and it recovers a lot of free space on your hard disk.

Disk Analyzer 1.1
PrimaSoft PC, Inc.

Disk Analyzer is a useful freeware Windows 95/98/Me/NT tool that enables computer owners to analyze hard disk space.

PieSize 1.0.2.1
Jody Sankey

PieSize is a free and simple little utility that will graphically investigate disk usage.

Dirlot 0.9
Olexandr Lykho

Dirlot will show relative size of all elements (both files and folders) in a directory on disk using columnar diagram.
Other software in this category

CleanCIH 1.6
Proland

Clean your PC from the Win95.

Klez Removal Tool 1.0.11
Symantec Corporation

W32.

WinImp 1.21
Technelysium

WinImp is a new file archiver which not only recognises common archive formats, but also introduces a new, high performance archive format.

Softpit PC Search Light 1.3
Goldmarc Technology AS

The softpit PC search light is a useful utility for people who need to find critical information fast and precisely on their own computer.