Home bookkeeping Lite 5.2

Home bookkeeping is to keep Your personal money.

Developer:
KeepSoft
software by KeepSoft →
Price:
0.00
License:
Freeware
File size:
0K
Language:
OS:
Windows Vista

(?)

Rating:

0

/5 (0 votes)
Home bookkeeping is to keep Your personal money.

There are the following capabilities of Home bookkeeping: recording of expenses; recording of incomes; detailed report on expenses and incomes; providing of different diagrams; any number of users can use the Home bookkeeping.

They can run records independently of each other entering the program on different names.

In order to keep privacy any name can be protected by password; all records can be run in one or two currencies.
tags

home bookkeeping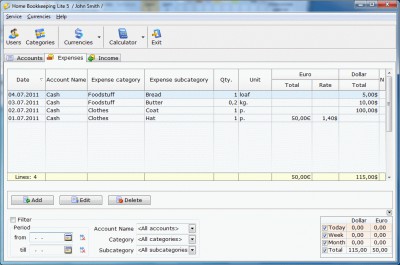 Download Home bookkeeping Lite 5.2

Download Home bookkeeping Lite 5.2

Authors software

Home bookkeeping Lite 5.2
KeepSoft

Home bookkeeping is to keep Your personal money.
Similar software

Home bookkeeping Lite 5.2
KeepSoft

Home bookkeeping is to keep Your personal money.

Monex 0.715 Beta
Andrej Završnik

Personal finance manager based on double entry bookkeeping principles.

FAssistant 4.00
Niraj Agarwal

FAssistant can be a good fit for personal use to keep track of expenses, incomes, bank accounts, credit cards, bank loan/policies, stocks/securities, password management, personal address book.

Income and Expense 1.0
INFOSOFT-RD

Income and Expense application is an useful and easy to use program that allows you to maintain a detailed sheet of all your income and expenses and obtain an immediate balance report.

Home Credit Card Manager 3.0.120602
Home Money Manager

HomeCreditCardManager will allow you to monitor your credit card usage in the privacy of your own home.

Simple Budget 1.0
davidpye.com

Simple Budget is a program that itemises all of your expenses plus your income and then shows you how much money you have left.

Complex Mortgage Calculator 1
Real Motgage News

Use Complex Mortgage Calculator to calculate various different aspects of your mortgage repayment schedule.

PromOffice Brigadir 3.31
PromOffice

PromOffice Brigadir software is useful for building contractor for keepings tracks of building functioning.

RQ Money 0.4
Slavomir Svetlik

RQ Money is a free program that was created in Rapid-Q and serves for home evidence of finance (credits and debets).

Buddi 2.0.3
Wyatt Olson

Buddi is a personal finance and budgeting software that is aimed at those who have little or no financial background.
Other software in this category

City'O'Scope 1.2.1
Macrofocus GmbH

Where in the world should you travel - or perhaps even relocate - to pay less, earn more, and improve your living conditions? To help you answer this complex question, Macrofocus releases City`O`Scope, a free interactive tool for visually analyzing prices and earnings around the world.

Securo - Credit Card Security and Protection for Online Shopping 2.4
Idium

Securo provides Credit Card Security & Privacy Protection for online shoppers by checking and approving shopping sites in real time.

Ariacom Business Reports 6.2a
Ariacom

Ariacom Business Reports is a database reporting and multi-dimensional analysis tool with dynamic SQL generation.

CalcuWage 2.61
kwiqMAD

CalcuWage is a small unobtrusive, fun program that calculates your wage each second as you work.

EuroCalc 2.1
alexSofts

EuroCalc is a free calculator and converter.