CCleaner 4.02.4115.

CCleaner (Crap Cleaner) is a freeware system optimisation tool.

Developer:
bigdog
software by bigdog →
Price:
0.00
License:
Freeware
File size:
0K
Language:
OS:
Windows Vista

(?)

Rating:

0

/5 (0 votes)
CCleaner (Crap Cleaner) is a freeware system optimisation tool.

CCleaner removes unused and temporary files from your system - allowing it to run faster, more efficiently and giving you more HDD space.

The best part is that it's fast (normally taking less that a second to run) and Free.

24 February 2006: CCleaner is now available without the Yahoo! Toolbar, so we have restored the award and uploaded on our servers the version without extra languages.

We strive to offer our users only the latest software versions, therefore we will initially provide the adware version of CCleaner, as soon as it is released. We will update the listing leaving only the ad-free version when that will be released.


CCleaner features
Cleans the following:
Internet Explorer Cache, History, Cookies, Index.dat.

Recycle Bin, Temporary files and Log files.

Recently opened URLs and files.

Third-party application temp files and recent file lists (MRUs).
Including: Media Player, eMule, Kazaa, Google Toolbar, Netscape, Office XP, Nero, Adobe Acrobat, WinRAR, WinAce and more...

Advanced Registry scanner and cleaner to remove unused and old entries.

Including File Extensions, ActiveX Controls, ClassIDs, ProgIDs, Uninstallers, Shared DLLs, Fonts, Help Files, Application Paths, Icons, Invalid Shortcuts and more...

tags

and more files and only the temporary files unused and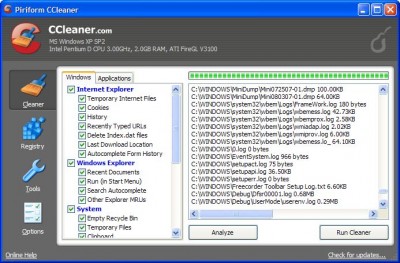 Download CCleaner 4.02.4115.
Authors software


CCleaner 4.02.4115.
bigdog

CCleaner (Crap Cleaner) is a freeware system optimisation tool.
Similar software


CCleaner 4.02.4115.
bigdog

CCleaner (Crap Cleaner) is a freeware system optimisation tool.

Click&Clean 1.1
Mixesoft

Click&Clean is a free and useful add-on/extension that adds a button to the Internet Explorer and/or Mozilla toolbar.

DCleaner 1.08.211
DCleaner

DCleaner is a useful and freeware system cleaner and optimizer which cleans up unused temporary files and recent file lists from your computer.

iSysCleaner 0.7.0
Matteo Turconi

iSysCleaner - a free application that will search for junk files on your computer and allows you to delete them.

BeClean 1.4
Budy Setiawan Kusumah

BeClean is a full packaged application which consists in some very useful system cleaning tools: Registry Cleaner, Internet Cleaner, History Cleaner, Temporary Files Cleaner, Disk Cleaner, Desktop Cleaner and Start Menu Cleaner.

CleanCache 3.1
ButtUglySoftare

CleanCache is a free (for 1 - 2 systems), very powerful Internet Explorer 6.

LS Cleanup 1.0
Linos Software

This latest version has many features making it one of the most comprehesive MS Windows Clean-up application avaliable.

Zappit System Cleaner 1.11
Cloudeight Internet

Zappit System Cleaner is a powerful software that cleans up and speeds up your computer.

System Cleanup 1.6
Frank van der Sluijs

Find and remove temporary, cache, history and backup files on all your local drives.

Keep Your Privacy 3.0.0
Blackhawk Software

Keep Your Privacy is powerful privacy software to erase online Internet tracks and program activity.
Other software in this category

DirectX Buster 2.1 Beta 4 Build 41
Dominik Schindler

DirectX Buster is a DirectX uninstaller for Windows 9X, ME and W2K.

Detonator 30.xx To 40.xx Fix 1.1.1
Jester2K Software

Tool for removing the elements of the Detonator 30.

CHAOS Shredder 3.0
Security Resources Group

CHAOS Shredder is a useful software which deletes selected files and folders, freespace, recycled bin, temporary data, temporary internet files, cookie, history, last documents list.

Cookie Guard 1.0
John Marcovich

Cookie Guard is a tool that will erase the cookies from your computer.

LockJar 2.1
The Iron(FE)-Works

LockJar gives you total control over the Internet browser cookies that are placed on your machine.