bed 0.2.25

Menu driven binary editor.

Developer:
Jaap Korthals Altes
software by Jaap Korthals Altes →
Price:
0.00
License:
Freeware
File size:
0K
Language:
OS:
Windows Vista

(?)

Rating:

0

/5 (0 votes)
Menu driven binary editor. Dataformats are ascii, unsigned and signed integers, float, bitflags, bitfields, labels, ebcdic and time_t.

Different sizes and byte ordenings are possible. Datatypes can be used in structures. Other dataformats, filters and procedures can be defined in plugins.

Contains copy, past, undo, redo, search, replace, marks, record/play and context sensitive help.Edit rawdisk devices (probably doesn't work with winNT/2000/XP).
tags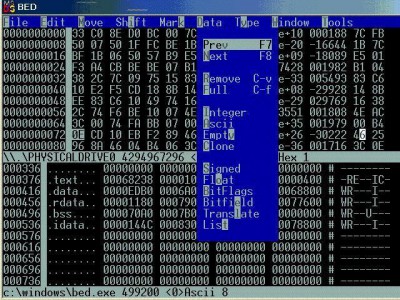 Download bed 0.2.25
Authors software

bed 0.2.25
Jaap Korthals Altes

Menu driven binary editor.
Similar software

bed 0.2.25
Jaap Korthals Altes

Menu driven binary editor.

tiny hexer 1.8.1.0
Markus Stephany

Tiny hexer is a free of charge hex editor for binary files.

Blue Byte File Editor 1.0
Ezyware

Blue Byte File Editor is a free 32k byte editor which can edit any binary file in memory, up to 2GB in size.

Hexplorer 2.6
ICY

Hexplorer is a hexadecimal file editor that will offer many features, including 5 color schemes to interpret bytes visually, unlimited Undo operation, find and replace function, pixel viewer, structure viewer and more.

AB-Edit 1.2.1.0
GRAHL software design

AB-Edit is the comfortable text editor for work with multiple documents.

TextEdit 2.1.0.914
Core Software Solution

TextEdit is the simple and easy to use powerful text editor for Windows that allows you view and edit HTML, CSS, JavaScript, PHP, PERL, SQL, Delphi, C, C++ and other languages source code.

Oscar's Renamer 1.1
www.MediaChance.com

Oscar's Renamer will help you edit files in directory in a full featured Text editor and then writing all the changes at once into the files.

i.Hex 0.91
Matthew Allen

i.

MultiDo CS2 for InDesign CS2 2.0.0
65bit Software Limited

To celebrate the launch of EasyCatalog, we are offering a free plug-in that allows you to perform multiple undo or redo operations in one step using new "Undo Multiple" and "Redo Multiple" menu options.

wyoEditor 2.2.5
Otto Wyss

A nice editor with a well designed and consistent look and feel.
Other software in this category

PEditor 1.7
yoda

PEditor is a tool for PE (Portable Executable) files.

LordPE 1.31
Yoda

LordPE is a utility for system programmers for editing many parts of PE (Portable Executable) files.

Source Edit 3.0
Joacim Andersson

Source Edit is an editor that can support programming languages but it can ve used as a regular text editor.

Perl-express 2.5
Perl-express Group

Perl-express is an application for writing and debugging your perl-programs.

HT Editor 2.0
Sebastian Biallas

HT Editor is a file editor/analyzer/viewer for executables.