AB-Edit 1.2.1.0

AB-Edit is the comfortable text editor for work with multiple documents.

Developer:
GRAHL software design
software by GRAHL software design →
Price:
0.00
License:
Freeware
File size:
0K
Language:
OS:
Windows Vista

(?)

Rating:

0

/5 (0 votes)
AB-Edit is the comfortable text editor for work with multiple documents. Edit your Windows, Unix or Mac files in ANSI, Unicode or UTF-8 encoding. AB-Edit is fast and easy to use.

Here are some key features of "AB Edit":

Drag'n'drop

Code templates

Bookmarks

Unlimited undo/redo

Automatic indention

Print with syntax highlighting

Colored syntax highlighting for more than 25 file types

Search & replace with regular expressions

Fully customizable environment

tags

syntax highlighting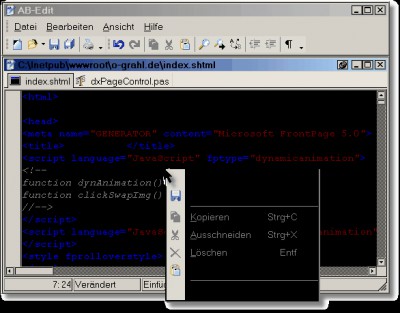 Download AB-Edit 1.2.1.0
Authors software
Similar software

AB-Edit 1.2.1.0
GRAHL software design

AB-Edit is the comfortable text editor for work with multiple documents.

Lite Edit 2.0
Jimmy Reumuth

Lite Edit is a free text editor that comes with all the features useful for programming and no features or options you don't need.

TextEdit 2.1.0.914
Core Software Solution

TextEdit is the simple and easy to use powerful text editor for Windows that allows you view and edit HTML, CSS, JavaScript, PHP, PERL, SQL, Delphi, C, C++ and other languages source code.

RJ TextEd 3.90
Rickards Software

With RJ TextEd you can use syntax definition files in order to recognize keywords, tags, strings and other items that you want highlighted in the text.

GridinSoft Notepad LITE 3.3.1
GridinSoft

The GridinSoft Notepad was made for those people that don't have enough opportunities standard notepad in OS Windows.

Crimson Editor 3.70
Ingyu Kang

Crimson Editor is a professional source editor for Windows.

AEdiX Suite 3.0.5 beta
Kirys Tech 2000

AEdiX Suite is an advanced editor with multiple file support.

Code Edit 2.0
Jimmy Reumuth

A text editor I worked on from 1998 to 2001.

MAX's HTML Beauty++ 2004 2.0
Marko Njezic / MAX Interactive

MAX's HTML Beauty++ 2004 is an advanced HTML editor that can edit as many files at a time as you want, plus it has advanced customizable syntax highlighting, undo / redo, drag & drop editing, right-click tag editing, extended find & replace, template support, project management, auto updating code snippets, code library, tag case changing capability, spelling & grammar check and more.

EngInSite Perl Editor Lite 2.0.2 build 37
Luckasoft

If you've used Windows programming tools like Visual Basic, Visual C++ or Delphi, EngInSite Perl Editor's IDE will be familiar to you.
Other software in this category

Bifocal Notepad 1.0
Bifocal

Bifocal Notepad is a simplified Notepad replacement intended for use by the visually impaired, or by anyone who is tired of squinting at tiny text files in the regular Windows Notepad.

metapad 3.51
Alex Davidson

metapad is a useful text editor utility.

ConTEXT 0.98.5
Eden Kirin

ConTEXT is a small, fast and powerful text editor, developed mainly to serve as secondary tool for software developers.

Syn 2.0.0.23
Ascher Stefan

Syn is an Open Source Programming and Text editing tool.

Notepad Pro 2.92.9
Manav Rathi

Notepad Pro is a skinnable text-editor supporting 8 languages, that can control Winamp, and can now even make PDF files.