Access Manager 2.2.65

Access Manager was developed as a tool which will keep all your passwords in one, simple to use list.

Developer:
Citi-Software Ltd
software by Citi-Software Ltd →
Price:
0.00
License:
Freeware
File size:
0K
Language:
OS:
Windows Vista

(?)

Rating:

0

/5 (0 votes)
Access Manager was developed as a tool which will keep all your passwords in one, simple to use list. It offers fast, easy and secure password storage.

One 'Master Password' is all that is needed to access all your passwords: Web site passwords, Credit card and PIN numbers, Computer logon passwords, Telephone banking codes, E-mail passwords, Software access passwords, Door entry and alarm codes.

You can view or edit your passwords, and drag & drop or copy passwords to web pages and other software. Strong encryption keeps your information safe. Access Manager cannot be opened without your Master Password


Access Manager features
Store and manage an unlimited number of passwords

Strong dual encryption keeps your passwords safe

Drag and Drop passwords to Internet Explorer and other software

Copy usernames and passwords to the Windows Clipboard

Organise passwords into 'Types' for easy management

Automatically generate strong passwords

Keep unlimited notes with each password

Notes can include clickable links to web sites and e-mail

Find a password by entering any part of its title/description

Each password can have a main link to a document, file, folder, program or web site

Password 'Properties' tracks creation, updating, accessing & ownership information

Individual passwords can be private or shared

Import passwords from CSV and XML files

Easy to use, modelled on the Microsoft Outlook® style

Extensive options and customising

Office 2003® style menus and toolbars

Support for Windows® XP themes and styles

Customisable fonts and colours

Preview and print the full details of any password

Preview and print a summarised password list for storage in a safe or bank vault.


Limitations
Access Manager is free for personal, non-commercial use.

tags

access manager your passwords keeps your each password preview and and print encryption keeps and other all your master password web site other software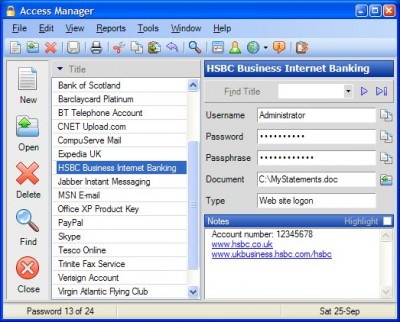 Download Access Manager 2.2.65

Download Access Manager 2.2.65

Authors software

Access Manager 2.2.65
Citi-Software Ltd

Access Manager was developed as a tool which will keep all your passwords in one, simple to use list.
Similar software

Access Manager 2.2.65
Citi-Software Ltd

Access Manager was developed as a tool which will keep all your passwords in one, simple to use list.

Password Safe 3.0
Password Safe Company Ltd

Password Safe keeps your passwords and data secure with 256-bit encryption.

Change Forgotten Password Lite 2.41
Excode Soft

Did you upgrade your computer and lost an ability to log in to ICQ network? Have you used Total Commander to access your FTP sites so often that you forgot those FTP passwords? Have you visited Web sites that require you to log in, and allowed Microsoft Internet Explorer to cache those logins and passwords? Recover those forgotten passwords and see them in plain text with the Change Forgotten Passwords tool! Change Forgotten Password Lite will let you recover your forggotten passwords, Change Forgotten Passwords will access the passwords stored in the application you specify, instantly decrypt it if the password was protected, and display them to you in plain text, allowing you to replace the password if you want to.

Key Folder 1.22
Mag2 Software

Key Folder is a secure password management software that helps you organize and store your passwords and other sensitive information you do not want other people to get access to.

Password Gorilla 1.4
Frank Pilhofer

Password Gorilla is an application that helps you manage your logins and passwords.

PassReminder 0.6.2
Eyecanseeyou

You would like to protect a list of passwords ? You would like to remember your passwords? PassReminder is for you! PassReminder is a free password manager.

Master Password 3.5
Adrian Rangel

Master Password will save your passwords of different sites and with one login you can see and access all of them.

Password Picker 0.4.3
Alexander Inglessi

Password Picker is an utility that can help you store passwords for archives, e-mail accounts, web-services, etc.

Pwd-Gen 1.3
Florian Robardet

Pwd-Gen is a small application that was developed to be a random password generating tool.

4Uonly 1.2.8
Dillobits Software

What good is a password list manager that secures your secret passwords using a master password and then forces you to enter it each time you want to access your password list? 4UOnly is a password manager with a unique feature that will save you time while promoting very good security: No longer are you required to enter your master decryption password each time you need to access your password list.
Other software in this category

Password Corral 4.0.3
Cygnus Productions

Password Corral is a popular freeware password manager with a clean, easy to use interface, strong encryption and that includes all the features you would expect from a comercial program.

PINs 4.50.0.86
Mirek Wójtowicz

PINs is a program for safe storing of any secure information like passwords, accounts, PINs, and more.

Password Scrambler 1.0
Onepassword.com

How many password-protected sites do you go to? Can you remember all the passwords you use, or do you end up using the same password everywhere? What if one of these sites was compromised, and your password was stolen? Have you ever frantically tried every password you know in the hope that's the right one? What if the site is recording all those attempts? Password Scrambler allows you to automatically present unique passwords to the sites you visit, generated from a unique master password you choose.

Any Password 1.44
RomanLab Software

Any Password is a tool that lets you store and arrange all your passwords, UserIDs, and related information in a tree form.

Cresotech DesktopSafe Lite 1.12
Cresotech, Inc.

Cresotech DesktopSafe is a convenient tool for safe storage of confidential information.