Tray Tools 2000 2.7

Tray Tools allows you to place up to 24 program icons in the Taskbar Tray.

Developer:
Gregory Braun
software by Gregory Braun →
Price:
0.00
License:
Freeware
File size:
0K
Language:
OS:
Windows Vista

(?)

Rating:

0

/5 (0 votes)
Tray Tools allows you to place up to 24 program icons in the Taskbar Tray. Program icons that you place there can be launched by simply clicking your mouse on them.

To add new programs or modify existing items click your mouse on the small red toolbox icon displayed in the tray.

You can also modify an existing program icon by right-clicking on it directly from the Taskbar Tray.
tags

your mouse taskbar tray the taskbar program icons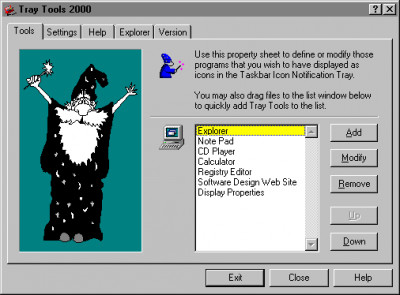 Download Tray Tools 2000 2.7
Authors software

Calendar 2000 4.9
Gregory Braun

Calendar 2 is an utility that will show a monthly calendar on the Windows desktop.

Error Messages for Windows 3.0
Gregory Braun

Error Messages for Windows is a small utility that will allow you to look up MS Windows error code numbers and display a descriptive message explaining what the numeric code actually means.

Unit Conversions 2000 2.7
Gregory Braun

Unit Conversions 2000 lets you convert units of measure from one system to another.

AppPaths 2000 3.1
Gregory Braun

AppPaths is a small Control Panel extension that will allow you to edit various startup settings defined in the MS Windows System Registry.

WebTime 2000 3.9
Gregory Braun

WebTime 2000 is a small utility program that will synchronize your PC`s internal clock with one of the several atomic clocks maintained by the United States National Institute of Standards and Technology.
Similar software

Tray Tools 2000 2.7
Gregory Braun

Tray Tools allows you to place up to 24 program icons in the Taskbar Tray.

Tray Pilot Lite 1.10 build 7
Invention Pilot, Inc

Tray Pilot allows you to hide the System Tray icons.

Soft191 Panic Station 1.0
Jonathan Clark

Soft191 Panic Station quickly hide all those open windows from prying eyes! Make windows (and their taskbar buttons) disappear with one click of the mouse or by pressing a hot key.

Iconize 1.0.0.8
Brooks Younce Software

Iconize is a small and simple, yet very powerful program that will dock any Windows application to the System Tray.

Ghost-It! 1.04
Matthew T. Pandina

Ghost-It! is an application that runs in the system tray, and lets you turn windows into "ghost" windows.

WMP Manager 1.0
John Kirchner

This program will allow you to control most of the functions of windows media player in an "all in one" system tray icon.

Tray Bar Lite 1.0
Detonator

Tray Bar application will allow you to create the special panel with buttons for fast start frequently used programs.

4t Tray Minimizer Free 6.07
4t Niagara Software

4t Tray Minimizer lets you running applications minimized as System Tray icons, which helps in adjusting free space on your taskbar.

MinimizeToTray 0.0.1.2006102615+
Mook, Brad Peterson

Minimizes Mozilla windows into the system tray.

ArtTray 1.0
BrigSoft

ArtTray is an application created to be just a nice system tray dropper and minimizer.
Other software in this category

ShutDownPro 1.132
Kurt Zimmermann

ShutDownPro let you shutdown, reboot, or logoff your System.

ShutdownTray 1.3.2
VicTech Software

ShutdownTray is an application that (from your system tray) allows you quick and easy access to all of your system's power options (shutdown, restart, hibernate, screen saver, etc).

Slawdog Smart Shutdown 2005
Slawdog E-Solutions, Inc

Slawdog Smart Shutdown is a powerful network enabled shutdown utility, that allows you to shut down, log off, reboot, lock, turn off, hibernate, disconnect from the Internet or network, enter standby mode in Windows, shut down and reboot computers in your network, both manually and automatically.

dfg ShutDown XP 3.9.7
d.f.g.

A_ShutDown gives you an easy and thorough time controlled and automatic way to shutdown, restart or log off your system with optional power off and shutdown forcing (no questioning).

XP SysPad 7.9
xtort.net

XP Syspad provides quick access to many Windows management features, as well as programs, system folders and more, without having to use the Control Panel or click through multiple menus to get there.