PowerPrompt 1.1

PowerPrompt will start a new command console.

Developer:
GrubleTrang Corporation
software by GrubleTrang Corporation →
Price:
0.00
License:
Freeware
File size:
0K
Language:
OS:
Windows XP/Vista

(?)

Rating:

0

/5 (0 votes)
PowerPrompt will start a new command console. This console is running with System privileges and any program launched from this prompt will inherit System credentials.

This allows you access to all processes, including system processes, full access to the registry, Active Directory, and much more. Imagine running Task Manager, Services.msc, RegEdit, admgmt.msc, etc. with System credentials: In rare cases the power of PowerPrompt will solve problems that otherwise would require a system boot.
tags

system credentials with system powerprompt will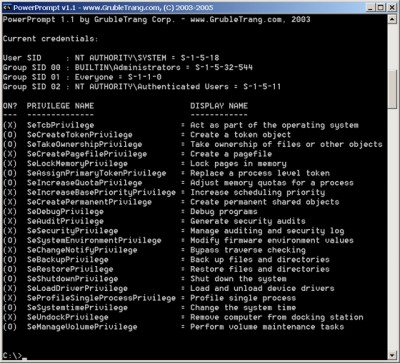 Download PowerPrompt 1.1
Authors software

FreeFile 1.2
GrubleTrang Corporation

When you try to delete, remove or rename files or folders you may get the following error messages: · "Cannot delete file: Access is denied.

PowerPrompt 1.1
GrubleTrang Corporation

PowerPrompt will start a new command console.
Similar software

PowerPrompt 1.1
GrubleTrang Corporation

PowerPrompt will start a new command console.

System Mole 0.9
motioncode



What's Running 2.2
Christer Fahlgren

What's Running is a product that gives you an inside look into your Windows 2/XP/2003 system.

PrcView 5.2.15.1
Computer Technology, Inc.

PrcView is a process viewer utility that displays detailed information about processes running under Windows.

KillProcess 2.41
Orange Lamp Software Solutions

KillProcess is an application assassin of the extreme kind.

PsSuspend 1.04
Mark Russinovich

PsSuspend is a program that allows you to suspend processes on the local or a remote system, which is desirable in cases where a process is consuming a resource (e.

PsList 1.26
Mark Russinovich

Most UNIX operating systems ship with a command-line tool called "ps" (or something equivalent) that administrators use to view detailed information about process CPU and memory usage.

SmartClose 1.1
BM-productions

Many tasks that can be performed on PC's these days require you to close all currently running programs.

ActMon Process Monitoring 1.00
Activity Computer File PC Network Monitoring

ActMon Process Monitoring will show you full info about all running applications and processes.

PPedia Task Manager Svchost Edition 1.02
PPedia Process Library Svchost

PPedia Task Manager Svchost Edition is a task manager with built-in process library.
Other software in this category

ShutDownPro 1.132
Kurt Zimmermann

ShutDownPro let you shutdown, reboot, or logoff your System.

ShutdownTray 1.3.2
VicTech Software

ShutdownTray is an application that (from your system tray) allows you quick and easy access to all of your system's power options (shutdown, restart, hibernate, screen saver, etc).

Slawdog Smart Shutdown 2005
Slawdog E-Solutions, Inc

Slawdog Smart Shutdown is a powerful network enabled shutdown utility, that allows you to shut down, log off, reboot, lock, turn off, hibernate, disconnect from the Internet or network, enter standby mode in Windows, shut down and reboot computers in your network, both manually and automatically.

dfg ShutDown XP 3.9.7
d.f.g.

A_ShutDown gives you an easy and thorough time controlled and automatic way to shutdown, restart or log off your system with optional power off and shutdown forcing (no questioning).

XP SysPad 7.9
xtort.net

XP Syspad provides quick access to many Windows management features, as well as programs, system folders and more, without having to use the Control Panel or click through multiple menus to get there.