Power Search 1.0

Power Search finds files you never knew existed in your CD-ROM/disk, but always wanted.

Developer:
K. Ranjith
software by K. Ranjith →
Price:
0.00
License:
Freeware
File size:
0K
Language:
OS:
Windows Vista

(?)

Rating:

0

/5 (0 votes)
Power Search finds files you never knew existed in your CD-ROM/disk, but always wanted.

Power Search replaces corrupted versions of system files by first identifying where they exist from the available system cab files and save reinstallation time of a system program.

Power Search identifies large sized files that are stored more than once on the available archives, delete copies from archives and save disk space.

Power Search finds files _inside_ the_archive files on your system, fast.

Which means you can not only find files that hide inside a compressed archive file but can also help find files you never knew you had, within the magazine CD's for example.

So the next timewhen a system file is corrupted, just find out with Power Search, which CAB file contains this system file from the windows installation CD, instead of manually examining each CAB file for the same.


Power Search features
Supports upto 9 formats including all widely used formats like Zip, Cab, Rar etc.

Fast search of files.

Multiple file searches & on multiple directories in a single search.

Display of other useful info about a matching entry like file Size (as in archive) and complete path if available.

User friendly with hint messages, status messages etc.

Matched archives can be launched from the program itself.

Normal files & directories can be included in search.

Complete Delphi 4 source code included!

tags

power search from the files that find files system file cab file and save the available files you you never never knew search finds finds files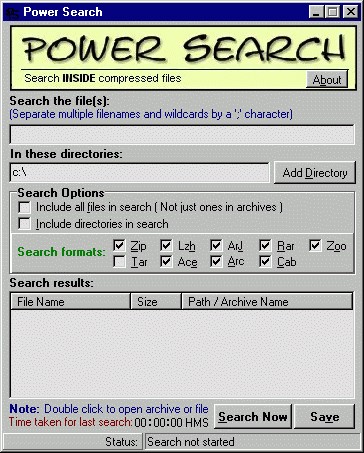 Download Power Search 1.0
Authors software

Power Search 1.0
K. Ranjith

Power Search finds files you never knew existed in your CD-ROM/disk, but always wanted.
Similar software

Power Search 1.0
K. Ranjith

Power Search finds files you never knew existed in your CD-ROM/disk, but always wanted.

ZebZip 1.2 Beta
Danish Zeb

Compression/Decompression * Supports over 25 compression and decompression formats.

SeaRCHZIPRar 1.5
Systech Software

SeaRCHZIPRar is the fastest drive level recursive across-folders files finder for ZIP and RAR archives.

URLBlaze 2.98
Ran Gaeva

URLBlaze is a multi file search system integrating the power of verified web search and the robustness of its decentralized, peer-to-peer search system.

Archive Searcher 2.1
Miniwish Software, Inc.

Archive Searcher is the perfect tool if you store thousands of important files in compressed archives.

FileExtractor 1.0
kichkasch

FileExtractor was designed to search for files inside of other files.

SV2 Power Search 1.0b
SV2 software

SV2 Power Search is a useful utility that can help you to search for information in World Wide Web using most popular search engines.

ScanFS 1.0.0.69
Saleen Software

ScanFS is a fast file locator and disk cataloging utility Here are some key features of "ScanFS": · Search in single directories or directory groups · Search and replace in multiple files · Supports simple or regular expressions for filenames and file contents · Live preview of file contents, without the need to rescan the file system · Live preview of images · Windows Explorer integration (can become the default search engine.

HandyFileSearch 1.1.0
Pitrinec Software

HandyFileSearch application is intended to: (i) allow a user to quickly access files that the user remembers at least part of the name; (ii) quickly find a file by variety options (time, size, extension, location); (iii) find a file - binary or textual - containing combination of words or binary data (AND, OR, NOT, wildcards and regular expressions supported).

Simple Disk Catalog 1.0c
Bruno Freitas

Simple Disk Catalog scans your disks deeply and generates a catalog of each one in a database.
Other software in this category

Nullsoft Beep 0.3
Nullsoft, Inc

Nullsoft Beep is an application that makes your computer sound like computers sound in the movies.

AR Soft RAM Disk 1.20
AR Soft

The AR RAM Disk is a freeware driver for Windows NT or Windows 2000.

DBX Plugin for Windows Commander Beta
Labs99

DBX Plugin is an additional component for Windows Commander allowing you to read contents of Microsoft Outlook Express files.

4th split 1.1.9.0
Sergey S. Tkachenko

4th split is used for splitting impossibly large files on blocks.

HDCopy 2.104
Kurt Zimmermann

HDCopy is recommended to make a boot disk.