KeyNote 1.6.5

Keynote is a flexible, multi-featured tabbed notebook, based on Windows standard RichEdit control.

Developer:
Marek Jedlinski
software by Marek Jedlinski →
Price:
0.00
License:
Freeware
File size:
0K
Language:
OS:
Windows Vista

(?)

Rating:

0

/5 (0 votes)
Keynote is a flexible, multi-featured tabbed notebook, based on Windows standard RichEdit control. It's always accessible with a single keypress, even if you work in another application.

The basic idea in KeyNote is that you can include many separate notes within a single file. This means that you do not need to open several files - for most purposes it is enough to create only one file and hold all your notes inside it. With the addition of the tree-type notes, you now have a three-dimensional notebook: many notes within one file and a multi-level, nested pages within a single note. Optionally, KeyNote can encrypt your data securely using the Blowfish or Idea algorithms. Keynote's interface and behavior are extremely configurable.

KeyNote was written to overcome major limitations in other popular information managers, both free and shareware. KeyNote is the only information manager that gives users combination of simple and tree-type notes, rich text editor, ability to mix freely many notes of different types in a single file and secure encryption. This makes KeyNote the most flexible and one of the most powerful applications of this kind currently available. Some functions, such as "virtual nodes", per-file configuration settings, multiple backups or WordWeb integration are unique and, to my knowledge, not supported by any other notebook program, freeware or shareware.

With powerful text formatting capabilities, easily navigable interface and additional features such as styles, macros, plugins, and templates, KeyNote is has become the favorite note keeper, diary, outliner, knowledge base and information manager for thousands of users.



KeyNote features
personal information management

personal diary or journal

to-do items

scratchpad for quick notes and ideas

writing and structuring small articles or larger documents

Creating and storing electronic texts (easily structure chapters or sections)

outlines, projects

project documentation

reports

recipes

personal contacts (addresses, telephone numbers)

accounts, passwords, PIN numbers (remember to encrypt the file!)

Internet bookmarks (clickable hyperlinks)

all kinds of lists! If you collect books, CDs, DVDs, or just your favorite quotes or jokes, KeyNote makes it easy to store them in one place and search through them quickly.

email archives (you can use the separate, free KNTConvert utility to import your email archives into a KeyNote file)

archiving documents, such as articles downloaded from the Internet or local files

templates for creating documents with a standard format

viewing log files (use virtual nodes to view log files without having to open each file separately)

for teachers: class notes, student attendance and assessment notes

for programmers: KeyNote is great for storing and searching through source code archives

tags

file and information manager interface and the most virtual nodes log files email archives many notes type notes notes within you can single file one file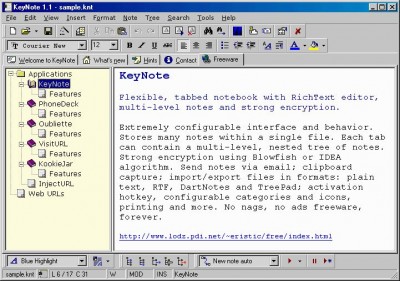 Download KeyNote 1.6.5
Authors software

Phone Deck 1.3
Marek Jedlinski

PhoneDeck has the aim to be a reasonably featured address book application, but is not meant to replace a large PIM-type program.

KeyNote 1.6.5
Marek Jedlinski

Keynote is a flexible, multi-featured tabbed notebook, based on Windows standard RichEdit control.
Similar software

KeyNote 1.6.5
Marek Jedlinski

Keynote is a flexible, multi-featured tabbed notebook, based on Windows standard RichEdit control.

WebKeyNote 1.00
Mikko Olesen

WebKeyNote is a useful application which was designed to convert KeyNote (.

SEO Note 1.3.34
SEONote.com

SEO Note is an application that will help you to operate your information and store it in three forms - in the text form, rich text and html.

Easy Notes 5.13
Numen Technology Co. Ltd.

Easy Notes is an Easy-to-Use and Powerful Utility for Storing or managing Notes.

TreePad Lite 4.3
Freebyte

TreePad Lite (freeware) is a very intuitive, small yet powerful personal database programs, only 465 Kb in size.

Express Notes 1.01
NCH Swift Sound

Card File Software for Windows.

TreeDBNotes 1.0 build 180
SoftViewer

TreeDBNotes is a free easy-to-use yet powerful personal database program, PIM and Word Processor with Tree Structure, advanced encryption and password protection.

Aethera 1.2.1 build 050401
theKompany.com

Aethera is a pim application, that means it can handle all kinds of personal information: email, contacts, notes, tasks, todos, journals.

EverNote 2.0.0.244
EverNote Corp

EverNote for Windows is an intuitive note management application that offers you a single place for the organization, easy input and quick retrieval of all types of notes and clippings.

AM-Notebook Lite 6.0
Martin Aignesberger

AM-Notebook is a multi-featured tabbed note-taking software that offers a reliable and easy way to save notes and formula supported spreadsheets in a light weight tray icon tool.
Other software in this category

Teachers Report Assistant 6.0
Ray Le Couteur Educational

Teachers Report Assistant - Free time saving utility for teachers who word process student reports.

RICOlmer 2.5
Robert Wieckowicz

RICOlmer is very handy task reminder.

Diary Book 1.9
TSM-Soft Enterprise

Diary Book will allow you to keep a diary on your computer.

Virtorio Address Book 2.4.2.0
Virtorio

Virtorio Address Book is a freeware address book application.

CRMadar 3.627
Madar

CRMadar 3.