CRMadar 3.627

CRMadar 3.

Developer:
Madar
software by Madar →
Price:
0.00
License:
Freeware
File size:
0K
Language:
OS:
Windows Vista

(?)

Rating:

0

/5 (0 votes)
CRMadar 3.0 was designed to give you the knowledge you need to develop and implement smarter customer strategies and to maximize customer profitability. It is a powerful software solution for Customer Relationship Management for small and medium-size companies. The CRMadar application facilitates contact management, campaign management and customer service.

CRMadar is a software solution for Microsoft Windows 98, NT, 2 or XP and can be used either within a central network or remotely on Notebooks. It efficiently integrates with Microsoft Office tools for creating letters and sending emails. Attributes can be used to classify and group your contacts into specific lists.

Contact Management

In order to build more effective business relationships you need to know more about your customers and business partners. CRMadar lets you capture and manage a variety of information and share this information with the people who need it to efficiently do their jobs.
CRMadar 3.0 allows the user to enter information concerning the contact name, address, country, Email addresses, phone number, fax number, language, contact type etc. and many user-defined attributes.


Campaign Management

Ability to create a campaign and record key information, like:
campaign name, campaign type and classification, estimated cost, anticipated revenue, notes.

Ability to create a list of contacts who will be the target of the campaign using contact management, attributes and data from previous campaigns.

Customer Service

When a customer calls you need to be able to identify them at a personal and company level and process their inquiry in the most efficient way possible. With CRMadar 3.0 you can have immediate access to vital customer information such as product purchases, purchase date, open issues, call history, notes and follow up activity.
tags

contact management you need customer service campaign management solution for software solution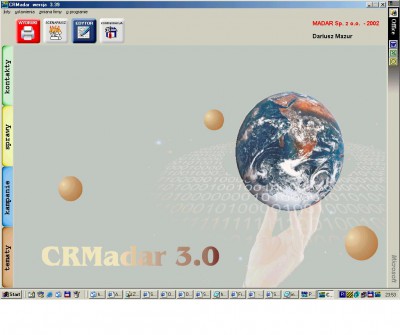 Download CRMadar 3.627
Authors software

CRMadar 3.627
Madar

CRMadar 3.
Similar software

CRMadar 3.627
Madar

CRMadar 3.

Prelude Contact Manager 2.1
Prelude-Groningen

You need a database for personal or business contacts and have Microsoft Access installed on your computer? Prelude Contact Manager maybe just the database you're looking for! Prelude Contact Manager application is designed to be an easy-to-use database for contact management.

Management-Ware Mass Mailing News Free Edtion 1.1.0.4
Management-Ware Solutions

Management-Ware Mass Mailing News is a Bulk email software designed to send out personalized bulk email marketing campaigns, HTML messages, and newsletters.

Business Manager 2007 1.0
Bugle Rock

Business Manager 2007 will help your organization digitize the following activities: Pre-sales (lead management, quotations); Post sales (customer complaint management); Maintenance contracts and their visit management; Service call management.

EUSOFT Manager FREE 1.05
EUSOFT

EUSOFT Manager FREE - freeware version of popular CRM (Customer Relationship Management) software.

Forte CRM Solo 1.0.0
Forté CRM Ltd

Forté CRM (Customer Relationship Managment) is designed to help you manage and improve your sales process, sales team management, ongoing customer service, marketing and information management.

Microsoft SQL Server Report Pack for Microsoft Axapta 3.0 1.0
Microsoft

The Microsoft SQL Server Report Pack for Microsoft Axapta 3.

TopSales Basic 6.14
Ceek Software

TopSales is a useful and powerful sales automation, contact management, document management and email message processor tool for sales and marketing people who are into internet marketing.

Samooha - S 2.0
Samooha (S) Pte. Ltd.

Samooha offers Enterprise Resource Management modules Samooha is world's first networked Business Environment readily available for the small and medium business community to adopt as an entry level Collaborative ERP, CRM and peer-to-peer Supply Chain solution with collaborative features such as Instant Messaging and WorkSpace sharing.

Alinda 0.4 (alpha)
claros

Alinda(previously known as Araf) is a free and useful customer management and reporting facility application for small sized companies.
Other software in this category

Teachers Report Assistant 6.0
Ray Le Couteur Educational

Teachers Report Assistant - Free time saving utility for teachers who word process student reports.

RICOlmer 2.5
Robert Wieckowicz

RICOlmer is very handy task reminder.

Diary Book 1.9
TSM-Soft Enterprise

Diary Book will allow you to keep a diary on your computer.

Virtorio Address Book 2.4.2.0
Virtorio

Virtorio Address Book is a freeware address book application.

CRMadar 3.627
Madar

CRMadar 3.