HD Tune 2.53

HD Tune was designed as a HDD application.

Developer:
EFD Software
software by EFD Software →
Price:
0.00
License:
Freeware
File size:
0K
Language:
OS:
Windows Vista

(?)

Rating:

0

/5 (0 votes)
HD Tune was designed as a HDD application.


HD Tune features
Benchmark: measures the raw performance

Transfer Rate

Access Time

CPU Usage

Burst Rate

Hard Disk information which includes firmware version, serial number, disk capacity, buffer size, transfer mode

Hard Disk Health

S.M.A.R.T. Information (Self-Monitoring Analysis and Reporting Technology)

Temperature

Power On Time

Copy text to clipboard

Copy screenshot to clipboard

tags

hard disk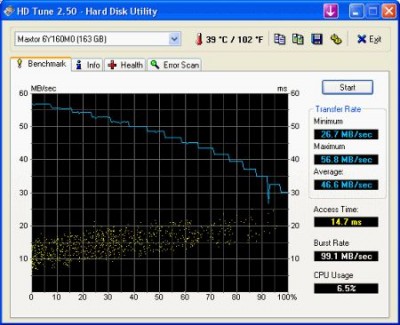 Download HD Tune 2.53
Authors software

HD Tune 2.53
EFD Software

HD Tune was designed as a HDD application.

NemoBar 1.00
EFD Software

NemoBar (Network Monitoring Bar) is a handy utility to monitor internet traffic.
Similar software

HD Tune 2.53
EFD Software

HD Tune was designed as a HDD application.

HDDlife 2.9.110
BinarySense, Ltd.

HDDlife - worried about hard-drive failure? Get HDDLife - a real time hard drive monitoring utility with alerts, malfunction protection and data loss prevention functions.

Roadkil's Disk Speed 1.1
Roadkil

Disk Speed can perform disk speed tests providing details about how fast your disks can transfer data.

HDD Thermometer 1.3
RSD Software

HDD Thermometer is a hard drive temperature monitoring application.

Visual Clipboard 2.2
Visual Clipboard

Visual Clipboard is a recording software for clipboard.

EaseUs Disk Copy 2.3
CHENGDU YIWO Tech Development Co

EaseUs Disk Copy will offer you a rapid and simple method to copy all or part of a hard drive to another hard drive.

SMART Monitor 2.1
JSTMM

SMART Monitor - hard disk drive manufacturers have adopted a standard called S.

Disk Analyzer 1.1
PrimaSoft PC, Inc.

Disk Analyzer is a useful freeware Windows 95/98/Me/NT tool that enables computer owners to analyze hard disk space.

HDClone Free Edition 10.1.0
miray

HDClone will copy the content of hard disks on a physical level from one disk to another hard disk.

FreeMeter 2.8.2
David M. Bowman

FreeMeter is an application that monitors system performance.
Other software in this category

Quick Bench 1.0
Rundegren.com

Quick Bench is a small tool that checks whether your disks are configured properly or not.

Ranish Partition Manager 2.44
Ranish

Ranish Partition Manager is a freeware program that partitions hard disks.

AutoDeFrag 1.2
MorphaSys

AutoDeFrag is a launcher for the standard defragmenter built into Windows 2000.

Disktest PRO 1.0
Manuel Augusto Santos

Disktest PRO is a Windows (32Bits) program to analyze, repair or modify 3.

Samsung Diagnostic 1.25
Samsung

This program is used to diagnose the disk when the Samsung hard disk is suspected to have failures.