G-Zapper 3.2

G-Zapper will help you to remain anonymous while searching Google.

Developer:
ksoft
software by ksoft →
Price:
0.00
License:
Freeware
File size:
0K
Language:
OS:
Windows Vista

(?)

Rating:

0

/5 (0 votes)
G-Zapper will help you to remain anonymous while searching Google.

Did you know that Google stores a unique identifier in a cookie on your PC, which allows them to track the keywords you search for? They use this information to compile reports, track user habits, and test features. In the future, it is possible they could even sell this information or share it with
others.

G-Zapper helps you protect your identity and this valuable "attention data"
by blocking the Google search cookie.

To delete your Google search cookie and create a new one, to obscure your identity, click the Delete Cookie button. To completely block the Google search cookie for good, click the Block Cookie button. Then test the results.

What you search for should be yours and yours alone. By clearing the Google search cookie regularly or blocking it all-together, you will help protect your attention data from others. G-Zapper makes this a breeze!
tags

search cookie google search the google click the cookie button attention data your identity you search search for this information protect your will help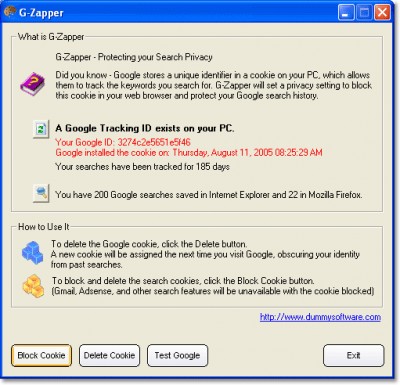 Download G-Zapper 3.2
Authors software

HijackRemote 1.0
ksoft

Clean your PC of spyware by connecting to a network of HijackThis professionals.

G-Zapper 3.2
ksoft

G-Zapper will help you to remain anonymous while searching Google.

MetaTagDummy! 1.7
Ksoft

Wonder how their pages get listed in the top 10? Well, now yours can be too! Grab keyword tags from the top web page results in search engines just for your own use! MetaTagDummy! is a simple tool to grab the keywords used in the top web page results of search engines and display them for you to use in your own pages.
Similar software

G-Zapper 3.2
ksoft

G-Zapper will help you to remain anonymous while searching Google.

Google Monitor 2.2.15.31
cleverstat

Free Monitor for Google is a free web promotion application that was designed for search engine specialists and webmasters.

Cookie Monitor 1.0
Naturpic Software

Cookie Monitor is an easy-to-use utility that watches all cookie files on your computer.

CookieSwap 0.4.8
Steve Tine

CookieSwap is a small Firefox extension that will enable you to maintain numerous sets or "profiles" of cookies that you can quickly swap between while browsing.

GooDelete History 1.0
PPP Infotech Ltd

Google Toolbar will clear all items in its search history.

Google Deskbar 0.5.95 beta
Google

Google Deskbar enables you to search with Google from any application without lifting your fingers from the keyboard.

DigiMode IE and Firefox Toolbar 4.5.135.0
DigiMode Media Players

Advanced IE search toolbar with Google Page Rank indicator, Search using any Engine with Google by default.

Australia Toolbar Firefox 1.0.1.28
Radio Toolbar

Australia Toolbar will let you search the internet with more than 29 search engines: Google.

Google Video Search 1.1.1
Fatih Kodak

GoogleVideoSearch is an application that will give you easy access to Google-Video.

Jvw Google rank and pagerank finder 1.0
Jimmy's Value World

A free search engine optimization software by Jvw at google-ranking.
Other software in this category

VisualICE Report Utility 4.7
Visualize Software

VisualICE Report Utility - so what do you do if you would like to know more about what the hacker tried to do, who he is, where he`s from or how to report him to the proper authorities? That`s where VisualICE Report Utility comes in.

Gopher Smoker .06
PivX Sollutions, LLC

PivX Solutions, LLC released a program appropriately named `Gopher Smoker`.

Bouncer for Windows 1.0 RC6
Chris Mason

Bouncer is a network tool which allows you to bypass proxy restrictions and obtain outside connections from an internal LAN.

Slap 1.2.2.0
Security Software

If your like me you run firewall software that tells you when someone tries to access your system.

VisualZone Report Utility 5.7
Visualize Software

VisualZone Report Utility is a report utility and an intrusion analyser for ZoneAlarm and ZoneAlarm Pro.