Free Launch Bar 2.0

Free Launch Bar is a Free replacement for the standard Quick Launch bar.

Developer:
TrueSoft
software by TrueSoft →
Price:
0.00
License:
Freeware
File size:
0K
Language:
OS:
Windows Vista

(?)

Rating:

0

/5 (0 votes)
Free Launch Bar is a Free replacement for the standard Quick Launch bar.

All functions presented in Quick Launch are also in Free Launch Bar. However, the Free Launch Bar is fully compatible with Quick Launch because it uses the same folder for shortcuts. But there is one huge difference.

Free Launch Bar allows you to combine your shortcuts into groups. This feature looks like popup menus. This vastly improves the management of your shortcuts and save working space on your desktop.

By using Free Launch Bar, you speed up the launching of your applications like never before.

The main features of Free Launch Bar:

- Creating menu on taskbar with unlimited levels
- Compatibility with Windows XP
- Integration into Windows Shell
- Low resources
- Compatibility with Quick Launch
- Creating separators to group shortcuts inside menus
- Different view modes
- Hotkeys
- Using PNG pictures as icons
- Support of Windows Drag&Drop technology. To add shortcuts you can simply drag them into menus
- Improved tips. You can include some of HTML tags into button description.
- Fast toolbar switching
- Absolutely FREE
tags

launch bar free launch quick launch you can compatibility with with quick your shortcuts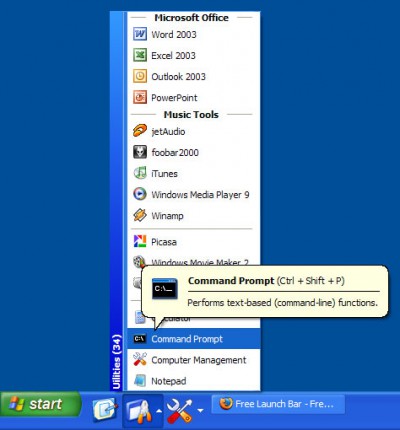 Download Free Launch Bar 2.0
Authors software

Winamp Control Plugin 2.6
TrueSoft

Winamp Control allows you to take control on Winamp from the taskbar.

Free Launch Bar 2.0
TrueSoft

Free Launch Bar is a Free replacement for the standard Quick Launch bar.

Mail Monitor 1.17 beta
TrueSoft

Mail Monitor will allos you to monitor all your POP3 mail boxes much more easily.
Similar software

Free Launch Bar 2.0
TrueSoft

Free Launch Bar is a Free replacement for the standard Quick Launch bar.

JetStart Free 4.4
Code Sector Inc.

JetStart Free - a program that launches start menu shortcuts.

True Launcher 2.8
TrueSoftware

True Launcher is a simple, easy to use program launcher.

Launch It Pro 2.0
FDP Soft

Launch It! Pro is a desktop utility that provides an alternative method of launching applications, easier to use than Windows Start menu, and neater than having large numbers of desktop shortcuts.

Fast Launcher 3.3 Beta 1
DvaSoft

Fast Launcher is a nice replacement for Quick Launch and Start Menu.

Alt Launch Band 1.01
NeSoft Inc.

Alt Launch Band - multiband alternative to Windows Quick Launch Toolbar with additional interesting features.

Launch Me 1.04
Cerulean Studios LLC

Launch Me plugin brings you a program launcher.

8start Launcher 1.4.1
8start.com

New era of desktop, start menu and quick launch is coming by a free application launcher 8start launcher.

Fix Shortcut To Desktop 1.1
Faltronsoft

Fix Shortcut To Desktop is a tool to get back the desktop shortcut on the quick launch bar if you accidentally deleted it.

Hidden Menu . Revision 2
CoPos

Hidden Menu is the perfect solution for your need to launch programs quickly.
Other software in this category

ShutDownPro 1.132
Kurt Zimmermann

ShutDownPro let you shutdown, reboot, or logoff your System.

ShutdownTray 1.3.2
VicTech Software

ShutdownTray is an application that (from your system tray) allows you quick and easy access to all of your system's power options (shutdown, restart, hibernate, screen saver, etc).

Slawdog Smart Shutdown 2005
Slawdog E-Solutions, Inc

Slawdog Smart Shutdown is a powerful network enabled shutdown utility, that allows you to shut down, log off, reboot, lock, turn off, hibernate, disconnect from the Internet or network, enter standby mode in Windows, shut down and reboot computers in your network, both manually and automatically.

dfg ShutDown XP 3.9.7
d.f.g.

A_ShutDown gives you an easy and thorough time controlled and automatic way to shutdown, restart or log off your system with optional power off and shutdown forcing (no questioning).

XP SysPad 7.9
xtort.net

XP Syspad provides quick access to many Windows management features, as well as programs, system folders and more, without having to use the Control Panel or click through multiple menus to get there.