DogFight 3.0

DogFight is a screensaver which has built in 3D rendered graphics.

Developer:
Onwijs
software by Onwijs →
Price:
0.00
License:
Freeware
File size:
0K
Language:
OS:
Windows Vista

(?)

Rating:

0

/5 (0 votes)
DogFight is a screensaver which has built in 3D rendered graphics. The Enterprise takes on a Bird of Prey in a desktop dogfight.

See Starfleets Enterprise maneuvre against upto three Klingon Birds of Prey. You can set your desktop to shine through the background.



Requirements
16MB RAM

16-bit colour (hi-colour) or better

tags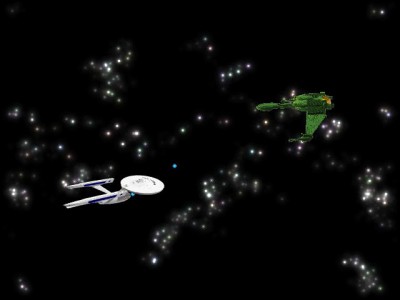 Download DogFight 3.0
Authors software

Flying Books 1.2
Onwijs

The Flying Books screensaver shows a flock of books flapping over your screen.

Mozaik 1.1
Onwijs

Mozaik will take your photos and turn them into a colourfull mozaic on your PC.

NameSaver 1.1
Onwijs

NameSaver is based on the EuroSaver code.

Paintball 2.0
Onwijs

Paintball is a screensaver which displays bouncing balls with an impressionistic painting on your PC.

StupidCupid 1.2
Onwijs

StupidCupid is a screensaver that shows a bouncing cupid wannabe around your desktop which leaves a heart trail.
Similar software

DogFight 3.0
Onwijs

DogFight is a screensaver which has built in 3D rendered graphics.

Hypnodisk 1.4
Onwijs

Hypnodisk is a psychedelic screensaver which will take your desktop for a spin.

Colour Picker 1
3D-Box

This is a very simple application used to pick a colour from a window on the desktop.

Blobber 3.1
Onwijs

Blobber is a screensaver that displays full of colours goos which are blobbing over your desktop.

SeeThru 1.0.2
Mike Strong

SeeThru is a tool that enables the background colour for the text under icons on the desktop be made transparent.

Octo 1.2
Remco de Korte

The Octo-screensaver has 3D-rendered graphics made with POV-Ray.

Comet 1.2
Onwijs

Comet is a screensaver which will show a swooping comet over your desktop, lighting up your darkened screen.

Grey 1.3b
Onwijs

Grey (Grey Matter) is another type of screensaver which is not full of colours but makes things happen over your desktop.

VB Colour Picker 2.0.1
Silvermaine

Colour Picker has a simple interface which allows you to pick a colour using the normal windows colour picker.

Birds III screensaver 1.0
inso

Birds III screensaver shows a collection of very beautiful bird pictures.
Other software in this category

Spring Wildflowers Screen Saver 1.3
ACEZ

Brighten your desktop with colorful spring wildflowers.

Only Kostroma Screen Saver 1.0
Only Screen Savers Group

Only Kostroma Screen Saver contains the big-size high-quality images of Kostroma town with amazing transition effects.

Best Ottawa's landscapes 2.0
Bersoft Inc.

Salvapantallas que incluye 24 hermosos pasajes de Ottawa, Canada.

Matrix Reloaded Screensaver 1.6
Winsquad.net

The Matrix Reloaded screensaver is a freeware openGL Matrix Screensaver that truly captivates the spirit of The Matrix movie, Matrix Reloaded and Matrix Revolutions sequels.

Ghost Forest Screen Saver 1.5
Enev Design & Consulting

A beautiful collection of hand-painted, children-safe screen savers.