Changer Fs 1.0.0.6

Changer Fs is a free screenSaver, wallpaper changer and wallpaper generator.

Developer:
FreeStone Group
software by FreeStone Group →
Price:
0.00
License:
Freeware
File size:
0K
Language:
OS:
Windows Vista

(?)

Rating:

0

/5 (0 votes)
Changer Fs is a free screenSaver, wallpaper changer and wallpaper generator.
Smoothly maps files with images on a screen. Is remembering of the last file. Supports formats: BMP, GIF, JPEG/JPG, EMF. There is a possibility of an excision background. Special effects: blur, replacement of color, surface wave. Supports change of screen resolutions.

NEW: in structure this unique ScreenSaver, is included not less unique Wallpaper Generator!
When you finish ScreenSaver, Wallpaper Generator saves the last frame as Wallpaper.
tags

wallpaper generator the last screensaver wallpaper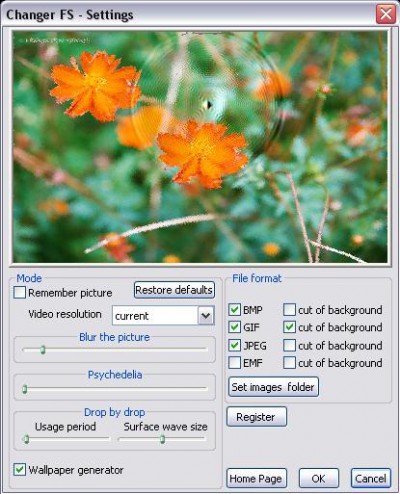 Download Changer Fs 1.0.0.6
Authors software

Magical Glass 2.0.0.1
FreeStone Group

Magical Glass - the nice magnifier, moves together with the cursor, in settings it is possible to replace the cursor with a magnifier.

Earth is our house 1.0.0.4
FreeStone Group

Free 3D ScreenSaver.

Alive 1.0.0.5
FreeStone Group

Alive is a Screen Saver which displays on your screen short changeable phrases.

Stock Startup 1.0.0.1
FreeStone Group

Stock Startup - Free Application Launcher Tool.

Video Card Stability Test 1.0.0.3
FreeStone Group


Similar software

Changer Fs 1.0.0.6
FreeStone Group

Changer Fs is a free screenSaver, wallpaper changer and wallpaper generator.

Adolix Wallpaper Changer 2.2
Adolix

Adolix Wallpaper Changer is a freeware utility that will help you configure your desktop wallpaper easily.

EvJo Wallpaper Changer 3.1
EvJo Soft

EvJO Wallpaper Changer is a wallpaper manager that can change your background images once a day, at every startup or at regular time intervals.

Win Vista Wallpaper Changer 1.0
Dancemammal

Win Vista Wallpaper Changer is a powerful wallpaper changer for your desktop.

Ccy Wallpaper Changer 2.1.4
Ccy JC_HK

Ccy Wallpaper Changer is a useful wallpaper utility that gives you the opportunity to automatically change your wallpaper on the desktop! Do you feel bored with your desktop? Don't you want to change it manually? Try this program, it can complete the work for you.

Random Wallpaper Changer 1.02
RJL Software, Inc

Random Wallpaper Changer is an application that will change your desktop background at some predefined times.

Fun Desktop Wallpaper Changer 1.22
Fun Desktop

Tired of your desktop wallpaper? Change it immediately! You think that it's tiresome to change desktop background constantly? You are wrong! With Fun Desktop Wallpaper Changer changing wallpaper on your desktop becomes easy as pie.

Caledos Wallpaper Changer 6.1.2
CaledosLAB

Are you bored to have always the same wallpaper on your desktop? Are you looking for a new exciting way to put images on it? Well, make your computer desktop more dynamic, interactive, useful, and fun with Caledos Automatic Wallpaper Changer.

Advanced Wallpaper Changer 2.1
AllMySoft

Advanced Wallpaper Changer is a high quality, free utility to manage your wallpapers.

Paper Changer 0.2
James Emerton

Paper changer is a small program for changing the background wallpaper on the windows desktop from a random selection of JPEG images within a specified folder.
Other software in this category

Spring Wildflowers Screen Saver 1.3
ACEZ

Brighten your desktop with colorful spring wildflowers.

Only Kostroma Screen Saver 1.0
Only Screen Savers Group

Only Kostroma Screen Saver contains the big-size high-quality images of Kostroma town with amazing transition effects.

Best Ottawa's landscapes 2.0
Bersoft Inc.

Salvapantallas que incluye 24 hermosos pasajes de Ottawa, Canada.

Matrix Reloaded Screensaver 1.6
Winsquad.net

The Matrix Reloaded screensaver is a freeware openGL Matrix Screensaver that truly captivates the spirit of The Matrix movie, Matrix Reloaded and Matrix Revolutions sequels.

Ghost Forest Screen Saver 1.5
Enev Design & Consulting

A beautiful collection of hand-painted, children-safe screen savers.