AutoRun 3.1.0

AutoRun.

Developer:
Tarma Software Research
software by Tarma Software Research →
Price:
0.00
License:
Freeware
File size:
0K
Language:
OS:
Windows Vista

(?)

Rating:

0

/5 (0 votes)
AutoRun.exe is a tool intended to be used with the Windows OS and XP AutoRun option also. As you are probably aware, this facility (if enabled) will automatically run an executable as soon as a CD-ROM is inserted into the CD drive of the computer.

One limitation of the standard AutoRun facility is the fact that it will only run executable programs; it will not by itself open document files such as web pages or text files. AutoRun.exe is designed to circumvent this restriction: it will open any number of document files or start executable programs. Moreover, it is smart enough to use a sensible fall-back strategy if no documents can be opened, perhaps because the target system does not have the required support for those document types.

AutoRun.exe requires no special support files apart from the usual autorun.inf file; in fact, it will even function without that file. Its flexibility and small size (only 8 KB) ensure that it loads very quickly and fits in almost any situation, even if the CD-ROM is nearly full.
tags

autorun exe document files executable programs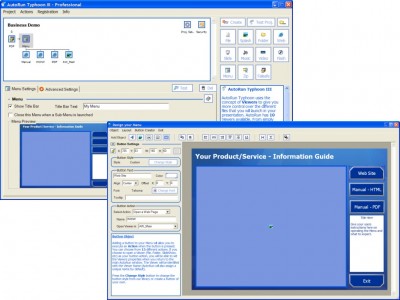 Download AutoRun 3.1.0
Authors software

AutoRun 3.1.0
Tarma Software Research

AutoRun.

WinSizer 1.41.2086
Tarma Software Research

WinSizer will resize the windows of the most known web browsers like Internet Explorer, Mozilla Firefox, Opera or Netscape Navigator, or any other window class.

HTML Cleaner 2000.300.9.41
Tarma Software Research

HTML Cleaner will remove unwanted white spaces, comments, quotes or end tags from your HTML files.

Tarma Setup 1.3
Tarma Software Research

Tarma Setup is a tool developed for program installing and uninstalling for Windows 9x / NT4 applications.
Similar software

AutoRun 3.1.0
Tarma Software Research

AutoRun.

Daboo AutoRun 0.9.5.2
dienhart.net

Daboo Autorun increases the capabilities of Autorun which has limitations to only execute applications.

Autorun.inf Maker 1.0
AshzFall

Autorun.

Autorun Inf Editor 1.0
Moon Valley Software

The Autorun.

1st AutoRun Express 3.2
Green Parrots Software

Do you want to burn CDs with presentations, documents and webpages? Would you like it to run automatically, when inserted into user's PC? In this case you need to make CD autorunnable.

APO USB Autorun 1.6.2.0
Arnaud Pons - Archidune.com

APO Usb autorun is a small application that detects usb drives connection.

Speedo Autorun Maker 1.4
Highdesert Software

Speedo Autorun Maker is a useful and handy autorun file generator utility.

DivX Autorun 1.3
Jouni Vuorio

Now you are able to easily create autorun menus for your DivX cd-roms.

Karen's Autorun.inf Editor 1.4
Karen Kenworthy

Easily create the Autorun.

eAutoRun 1.0
Eric Rodda-Software

eAutoRun was created to assist CD authors in the process of making the files required to autostart (autorun) an HTML file.
Other software in this category

ShutDownPro 1.132
Kurt Zimmermann

ShutDownPro let you shutdown, reboot, or logoff your System.

ShutdownTray 1.3.2
VicTech Software

ShutdownTray is an application that (from your system tray) allows you quick and easy access to all of your system's power options (shutdown, restart, hibernate, screen saver, etc).

Slawdog Smart Shutdown 2005
Slawdog E-Solutions, Inc

Slawdog Smart Shutdown is a powerful network enabled shutdown utility, that allows you to shut down, log off, reboot, lock, turn off, hibernate, disconnect from the Internet or network, enter standby mode in Windows, shut down and reboot computers in your network, both manually and automatically.

dfg ShutDown XP 3.9.7
d.f.g.

A_ShutDown gives you an easy and thorough time controlled and automatic way to shutdown, restart or log off your system with optional power off and shutdown forcing (no questioning).

XP SysPad 7.9
xtort.net

XP Syspad provides quick access to many Windows management features, as well as programs, system folders and more, without having to use the Control Panel or click through multiple menus to get there.