Tweak PDF 2.01

The initial view of a PDF document can be tweaked.

Developer:
CoolPDF Software Inc
software by CoolPDF Software Inc →
Price:
0.00
License:
Freeware
File size:
0K
Language:
OS:
Windows Vista

(?)

Rating:

0

/5 (0 votes)
The initial view of a PDF document can be tweaked. Is it a secret of PDF file? Well, we are not sure about this, and very few pieces of software can tweak PDF files.

With the freeware utility Tweak PDF, you are allowed to set the initial view preferences of a PDF document, such as whether to center window of the PDF file when opened, whether to display document title, to fit window, to hide menubar, to hide toolbar, and to hide window UI.

When window UI is made hidden, a PDF file is just like a PowerPoint slide zoomed to full screen.

You will be able to even set the page mode of a PDF document, such as show PDF files in full screen mode, thumbnail mode, outlines mode or simply without any special mode.

Page Layout also comes as an option for you to tweak. PDF document properties such as title, subject, author, keywords can be modified with Tweak PDF.

You can even tweak PDF version from 1.0 to 1.5 for compatibility concerns, and shrink PDF files by setting the compression level and choosing the compression algorithm.
tags

tweak pdf pdf document pdf file pdf files full screen the compression document such set the the initial pdf you initial view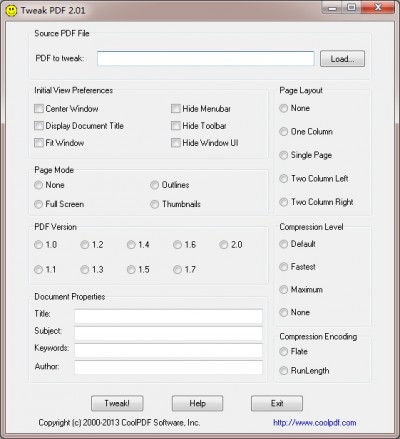 Download Tweak PDF 2.01
Authors software

PDF Watermark Creator 1.6
CoolPDF Software Inc

PDF Watermark Creator - Add a watermark (texts such as DRAFT, CONFIDENTIAL, or even your company's name) to PDF files quickly and easily.

PDF Thumbnail Generator 1.21
CoolPDF Software Inc

PDF Thumbnail Generator - Create thumbnail for your existing PDF files.

Tweak PDF 2.01
CoolPDF Software Inc

The initial view of a PDF document can be tweaked.

PDF Bundle 2.0
CoolPDF Software Inc

PDF Bundle is an easy-to-use application that will help you to attach any file to your existing PDF document.
Similar software

Tweak PDF 2.01
CoolPDF Software Inc

The initial view of a PDF document can be tweaked.

Plancoin 0.3
Romain Vallet

Plancoin allows you to hide selected windows in one keypress.

Ad-Aware Tweak SE
Lavasoft

Lavasoft´s new add-on Tweak SE allows you to alter and "tweak" settings as well as make GUI alterations available to the user.

XP Tinny Tweak 2.0.0
B.E.I.C. ELECTRONICS Inc

XP Tinny Tweak is a freeware software that has been developed to tweak up and remove spare components from your Windows operating system.

Page Title Eraser 0.6.2
Konstantin Scheglov

The Page Title Eraser (PTE) is a simple Mozilla Firefox extension which allows to hide title and icon (favicon.

Invisible Security 1.2
MacroSoft

Invisible Security is a quick and easy way to protect sensitive information on your computer from children, employers, and anyone else who uses your computer, including hackers! This software application will hide your sensitive files so that they can't be seen or accessed.

Calcute 11.5.27
Calcute.com

Calcute is a Free, Compact yet Capable Calculator.

Hide windows utility 1.0.2312
R Hopkins

Hide windows utility enables you to hide any window completly off screen quickly and easily with keyboard shortcuts.

12Ghosts Toolbar for IE 8.11
12Ghosts

12-Toolbar is a small tweak that adds a toolbar to Internet Explorer that helps optimize your work and save you time when browsing on the Internet.

Tweak N' Tune 1.0.1.116
AceLogix Software


Other software in this category

Free Easy PDF 2.2.1
VisageSoft

Easy PDF allows you to create PDF documents, using a Word-style interface.

PDFproducer 1.3
Naram Cheez

PDFproducer is a nice small program which transforms plain text into PDF documents.

Adobe Reader 8.0.0 / 7.0.9 Final
Adobe

Adobe Acrobat Reader is free, and freely distributable, software that lets you view and print Portable Document Format (PDF) files.

PDF reDirect 2.1
EXP Systems

PDF reDirect is a utility used to efficiently generate industry standard PDF files from any application.

Adobe Reader SpeedUp 1.36
Joseph Cox

Adobe Reader Speed-Up significantly decreases the amount of time required for Adobe Reader to start by disabling most of the least used plugins.