PrintConductor 1.5

PrintConductor is a software designed to print any number of documents in batch mode.

Developer:
fCoder Group Inc
software by fCoder Group Inc →
Price:
0.00
License:
Freeware
File size:
0K
Language:
OS:
Windows Vista

(?)

Rating:

0

/5 (0 votes)
PrintConductor is a software designed to print any number of documents in batch mode.

PrintConductor lets you print large numbers of files, including Adobe PDF, Microsoft Word DOC, Microsoft Excel XLS, Autodesk AutoCAD DWG, Microsoft PowerPoint PPT, etc.

Simply specify the files, adjust your printer and press the Run button! Do you need to convert lots of documents to TIFF, GIF or JPEG? PrintConductor can print on virtual printers to convert documents into graphics files.

PrintConductor and Universal Document Converter supplement each other impressively! Simply specify the documents you want to convert, select Universal Document Converter from the list of installed printers and press the Run button. The programs immediately start converting your documents into graphics files!


PrintConductor features
PrintConductor can batch print 16 document types: PDF, DOC, WRI, WPS, RTF, TXT, XLS, PPT, PPS, POT, VSD, DWG, DXF, SNP, HTM, HTML.

PrintConductor supports any printer installed on your computer and provides you with instant access to the settings of the specified printer.

Add documents to the list using drag & drop, Open dialog box or auto-scan a specified folder and its subfolders for documents of needed types. Sort documents by name or type, preview before you print, and/or print any document(s) from the list.

A progress bar keeps you informed of the 'complete' status of the job. And, the job can be easily cancelled at any time in processing.

tags

the list files printconductor graphics files universal document into graphics document converter the job from the documents into printconductor can specify the simply specify you print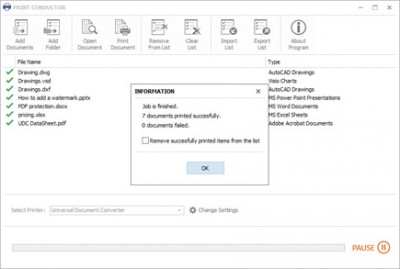 Download PrintConductor 1.5
Authors software

PrintConductor 1.5
fCoder Group Inc

PrintConductor is a software designed to print any number of documents in batch mode.
Similar software

PrintConductor 1.5
fCoder Group Inc

PrintConductor is a software designed to print any number of documents in batch mode.

doPDF 5.0 build 214
Softland

doPDF is a virtual printer that allows you to easily convert any printable document to PDF.

Printer Anywhere 1.3.5
Printer Anywhere Inc.

With PrinterAnywhere you can print documents and photos on other people's printers as easily as on the local one connected to your machine.

CutePDF Writer 2.7
Acro Software, Inc

CutePDF Writer is a free PDF creator.

Qcontrol 1.22a
A.N.D Technologies

Qcontrol is a cross-platform tool for monitoring of network printers and queues.

BullZip PDF Printer 3.0.0.164
BullZip

The BullZip PDF Printer works as a Microsoft Windows printer and allows you to write PDF documents from virtually any Microsoft Windows application.

EHusBook 2.4
Kroxus Software Group

EHusBook is an easy to use application for printing brochures from your documents in Microsoft Word 2000 and Word XP.

Word Viewer 2003 1.0
Microsoft

Word Viewer 2003 lets you open Word 2003 documents and documents created with all previous versions of Microsoft Word for Windows and Microsoft Word for Macintosh.

RTF Convertor 1.0 beta
OverZone Software

RTF Convertor is a unique and easy to use application to quickly and easily print and export (10+ formats supported) your RTF/Word documents.

Remote Queue Manager Personal 3.9 build 145
UsefulSoft

Remote Queue Manager Personal - Every time you use the "Print" function in one of your applications, the information goes to a spool on your hard disk before being sent to the printer.
Other software in this category

Memoriser 1.2.0.0
Skynergy

Memoriser is a utility for helping users remember phone numbers, passwords, account numbers, birthdays and anything else that is important .

Paste 1.0
A.Schw

The use is very simple.

QuickReplace 1.0
killermist

This is a little program I wrote to help me write similar routines within programs more easily, especially where the only thing that changes between procedures were variable names and constant references.

Sayz Me 0.51
Adam Bunter

Sayz Me is a simple text-to-speech software assembled in Python and freely distributed under a BSD license.

Microsoft Office Sounds 97
Microsoft

You can install these sounds to have fun audio cues play as you work with Microsoft Word 97/98, Microsoft Excel 97/ 98, Microsoft PowerPoint 97/98 and Microsoft Outlook 97/98.