NFOView 1.5

NFOView shows the .

Developer:
den fete gjengen
software by den fete gjengen →
Price:
0.00
License:
Freeware
File size:
0K
Language:
OS:
Windows Vista

(?)

Rating:

0

/5 (0 votes)
NFOView shows the .NFO files that come with scene releases and the ASCII art in those files the way they are meant to look.
tags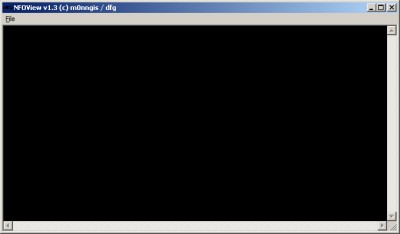 Download NFOView 1.5
Authors software

FlashFXP Password Decryption 1.0
den fete gjengen

FlashFXP Password Decryption is a program that decrypts all passwords in FlashFXP's Sites.

Gahnomen 1.5
den fete gjengen

Gahnomen enumerates all shared disks found on your local network using the Win32 API function called WNetEnumResource.

Shared Resource Password Recovery 2.3
den fete gjengen

Shared Resource Password Recovery will try to recover passwords from shared resources on Windows Network Neighborhood.

Network Share Brute Forcer 3.1
den fete gjengen



NFOView 1.5
den fete gjengen

NFOView shows the .
Similar software

NFOView 1.5
den fete gjengen

NFOView shows the .

Ascii Table 1.0.1
MaSoft

Ascii Table is a program that shows you all the Ascii Symbols along with their respective numbers in the Ascii Table.

NFO View for Total Commander 1.5
Igor Stepanov

NFO View for Total Commander is for viewing nfo and diz files, which are usually found in archive - loaded with Internet.

Ivcon 1.13
John Burkardt

Ivcon is an executable, command line C++ program that can read, write and convert between numerous 3D graphics file formats Ivcon is an extended version of John Burkardt's great, but buggy tool.

ASCIIvalues 1.0.8
Bluefive software

ASCIIvalues is a small application that shows the ASCII value of each key as you press it.

Replace Ascii & Text Utility 3.1
GID Software

If you need to find and replace ascii codes in binary files (or replace text in text files) and your word processor is struggling because the file is too large, then you need a utility specifically designed for the task.

FileStats 0.14
CyLog Software

FileStats is a simple utility that scans a folder and its sub-folders and returns statistics on the files found.

Idle RenderLW 1.1
Stone Oakvalley Studios

Idle RenderLW is a free and useful Newtek Lightwave scene queue manager for single machine systems.

ASCII Pic 2.0
Wong Ying Kit

ASCII Pic will let you convert JPEGs and bitmaps into plain text files.

DOS Viewer 1.2
Rainbow Software

DOS Viewer is simple application for viewing NFO and DIZ files.
Other software in this category

Bifocal Notepad 1.0
Bifocal

Bifocal Notepad is a simplified Notepad replacement intended for use by the visually impaired, or by anyone who is tired of squinting at tiny text files in the regular Windows Notepad.

metapad 3.51
Alex Davidson

metapad is a useful text editor utility.

ConTEXT 0.98.5
Eden Kirin

ConTEXT is a small, fast and powerful text editor, developed mainly to serve as secondary tool for software developers.

Syn 2.0.0.23
Ascher Stefan

Syn is an Open Source Programming and Text editing tool.

Notepad Pro 2.92.9
Manav Rathi

Notepad Pro is a skinnable text-editor supporting 8 languages, that can control Winamp, and can now even make PDF files.