MemTest 4.2

MemTest is a RAM reliability tester.

Developer:
HCI Design
software by HCI Design →
Price:
0.00
License:
Freeware
File size:
0K
Language:
OS:
Windows Vista

(?)

Rating:

0

/5 (0 votes)
MemTest is a RAM reliability tester. It evaluates the ability of your computer's memory to store and retrieve data without errors.

A correctly functioning computer should be able to do both these tasks with 100% accuracy day in and day out. A computer that fails these tests, perhaps because of old hardware, damaged hardware, or poorly configured hardware, will be less stable and crash more often.

Even worse, it will become even less stable over time as corrupted data is written to your hard disk.

By running MemTest you can ensure that your computer's RAM is correctly functioning. It is wise to test this when you buy a new computer, install new ram, or change the configuration of your machine (for instance, to overclock it).

If you are the sort of user who likes to push the performance of your machine to the edge, relying upon whether your machine will boot after your new BIOS tweaks is a poor way to determine the safety of your new settings. Use MemTest as a true test of stability.


Limitations
The Pro version is also a Windows native program, and similar to the normal version. It is tuned, however, to the needs of users who diagnose the quality of ram often, or on multiple machines. It offers options like a nice mode which allows you to test RAM in the background, during normal use of the machine, as well as more detailed reporting of errors.
It also does not pause every time an error is found, so it can be used to determine the overall reliability of ram that is prone to errors, rather than just as a tool that determines if there are any erro
tags

your machine your new determine the less stable correctly functioning your computer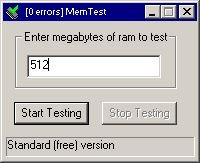 Download MemTest 4.2
Authors software
Similar software

MemTest 4.2
HCI Design

MemTest is a RAM reliability tester.

Microsoft Windows Memory Diagnostic
Microsoft

The Windows Memory Diagnostic tests the Random Access Memory (RAM) on your computer for errors.

Test My Hardware 2.4
testmyhardware.com

Test My Hardware is a simple system info and diagnostics tool that offers detailed information about all your hardware.

Info Bag Pro 5.0.0
Reohix

If you have bought a standard computer configuration and you started using it without asking yourself too much about the hardware, you can get into a situation where you will need information.
Microsoft Virtual PC 2007 1.0
Microsoft Corp.

Microsoft Virtual PC 2007 can be used to run multiple OSs simultaneously within the same personal computer.

RAM Idle LE 1.5
Tweak Now

RAM Idle LE is a useful, free and smart memory management tool which will keep your computer running more efficiently, faster, and longer.

Data Advisor 5.00
Kroll Ontrack Inc

Data Advisor is a simple, yet powerful computer diagnostic tool for assessing the condition of your computer system.

RW - Read & Write 0.21
Jeff

RW - Read & Write is a tool that access almost all the computer hardware.

Fresh Diagnose 8.57
Fresh Devices

Fresh Diagnose is a complete and comprehensive tool for diagnosing and benchmarking your computer.

VNC Flaw Test 2.0
IntelliNavigator Inc

VNC Flaw Test - Test your VNC installations for vulnerability It was almost over a month ago that we discovered a major vulnerability in VNC 4.
Other software in this category

MemDefrag 2.rev.3032
Bernt Levinsson's

MemDefrag 1.

Ozone RAM Optimizer 3.0
FelixSoft



RAMBoss 1.30
fawkz

RAMBoss is a small, yet effective utility for freeing up system RAM (Random Access Memory) on Windows 9x/Me systems.

RAM Def 2.71 XTreme
VSTEf research and development

RAM Def will defragment your RAM when reaching a warning level, or silently (with command line parameters).

Microsoft Windows Memory Diagnostic
Microsoft

The Windows Memory Diagnostic tests the Random Access Memory (RAM) on your computer for errors.