MemDefrag 2.rev.3032

MemDefrag 1.

Developer:
Bernt Levinsson's
software by Bernt Levinsson's →
Price:
0.00
License:
Freeware
File size:
0K
Language:
OS:
Windows Vista

(?)

Rating:

0

/5 (0 votes)
MemDefrag 1.1 is a console application that defragment windows memory. Users that can have advantage of this application can be user who runs real-time synth applications on "slow" computers with "low" memory(64MB), before running the applications. A person I know told me that the "FruityLoop" stopped "hacking" if he run MemDefrag before he starts FruityLoops Pro...
tags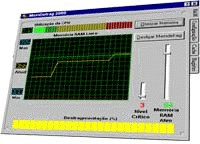 Download MemDefrag 2.rev.3032
Authors software
Similar software

MemDefrag 2.rev.3032
Bernt Levinsson's

MemDefrag 1.

EasyMP3 2005 2.0.0.19
ZeuS Microsystems

EasyMP3 was created to simply encode and decode audio files.

Advanced System Tune up 3.1.0.4
Softwaredepo.com

FREE Advanced System Tuneup and Optimizer is a free program that consist of many useful modules that can be launched from the startup screen.

Anim8or 0.95B
Steve Glanville

Anim8or is a character animation and 3D modeling application that I have written over the past couple of years, not as a commercial endeavor, but because I love 3D graphics, animation and programming.

WinGuruXP Console 1.0
6HT ~ SOFTWARE

WinGuruXP Console is a suite of small and powerful tools design to work together within a Windows Console (SWVE.

PCchat 0.165
Rovatronic

PCchat is a chat like application resembling a linux console.

Faltron Free Memory 1.0
Faltronsoft

Faltron Free Memory is a very simple memory freeing tool that you can use for improving system performance.

MemoryElevator 2.1.1
Volker Voss

MemoryElevator is a great application for anyone that has a constant lack of free physical memory even though they have more than 64MB of memory.

MemAv 1.2
Alain Lecomte

Everybody have probably noticed that a computer raisonably fast just after power-on will slow down as time goes on.

FreeRAM XP Pro 1.52
YourWare Solutions

FreeRAM XP Pro is a freeware program designed to defragment and free up your system`s RAM (Random Access Memory).
Other software in this category

MemDefrag 2.rev.3032
Bernt Levinsson's

MemDefrag 1.

Ozone RAM Optimizer 3.0
FelixSoft



RAMBoss 1.30
fawkz

RAMBoss is a small, yet effective utility for freeing up system RAM (Random Access Memory) on Windows 9x/Me systems.

RAM Def 2.71 XTreme
VSTEf research and development

RAM Def will defragment your RAM when reaching a warning level, or silently (with command line parameters).

Microsoft Windows Memory Diagnostic
Microsoft

The Windows Memory Diagnostic tests the Random Access Memory (RAM) on your computer for errors.