PADPDF 0.1

PADPDF application is a TXT2PDF maker with an easy to use notepad editor.

Developer:
Paehl
software by Paehl →
Price:
0.00
License:
Freeware
File size:
0K
Language:
OS:
Windows Vista

(?)

Rating:

0

/5 (0 votes)
PADPDF application is a TXT2PDF maker with an easy to use notepad editor.
tags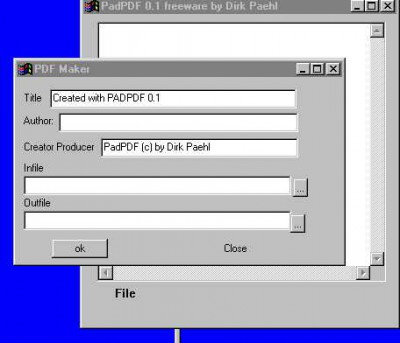 Download PADPDF 0.1
Authors software

DPCRYPT 1.05
Paehl

With this program you can crypt you file secure with: Blowfish, Cast256, 3DES, Mars, Twofish, RC6, Rijndael and Serpent.

DP WIPER 1.1
Paehl

This little program wipe file(s) and folder secure.

MP3 Encoder 1.0
Paehl

MP3 Encoder convert very fast WAV to MP3.

Easy Burning 2.03a
Paehl

EASY Burning is the easiest way to backup your files in a cdr(w).

Download Leecher 0.1
Paehl

What is download leecher? Download leecher is a download manager for hidden downloads.
Similar software

PADPDF 0.1
Paehl

PADPDF application is a TXT2PDF maker with an easy to use notepad editor.

Tiny Editor 1.5.6
Igor P. Zenkov

Tiny Editor application represents an optimized by exe size, memory footprint and system resources text editor.

Html Page Maker 1.0
UKBR

Html Page Maker is a free html editor utility.

Elfima Notepad 1.6.2
Alkero

Elfima Notepad is a free text editor that can create PDF, HTML, XML, and SVG documents.

A-Write Text Editor 2.0
Alpine Software

Have you ever needed an editor that is just a little better than MS Notepad? Well, this should be A-Write Editor which is a friendly Notepad Replacement.

View Source Editor 1.0
Iconico

Are you furustrated at Internet Explorer's insistance on using Notepad when you click View Source? This little application let's you use any text editor instead of Notepad.

Key Maker 2.0
Softnik Technologies

Key Maker is an application that will allow you to convert a phrase into a secret password.

Lambda HTML Editor 1.0.4
Marc-André Lamothe

Lambda HTML Editor is a very simple and easy to use HTML editor.

Free DVD Maker 1.1
Online Funny DVD Technologies Ltd.

Free DVD Maker convert and burn Avi, Mpg, Wmv, Asf, Mov to Video DVD .

BDV Notepad 5.0
BaDeVlad

BDV Notepad is comfortable text editor, replacement for a standard Windows Notepad.
Other software in this category

Free Easy PDF 2.2.1
VisageSoft

Easy PDF allows you to create PDF documents, using a Word-style interface.

PDFproducer 1.3
Naram Cheez

PDFproducer is a nice small program which transforms plain text into PDF documents.

Adobe Reader 8.0.0 / 7.0.9 Final
Adobe

Adobe Acrobat Reader is free, and freely distributable, software that lets you view and print Portable Document Format (PDF) files.

PDF reDirect 2.1
EXP Systems

PDF reDirect is a utility used to efficiently generate industry standard PDF files from any application.

Adobe Reader SpeedUp 1.36
Joseph Cox

Adobe Reader Speed-Up significantly decreases the amount of time required for Adobe Reader to start by disabling most of the least used plugins.