IE Count Text 1.0

Installing IE Count Text adds a new "Count Text" item to Microsoft Internet Explorer's context menus.

Developer:
Harmony Hollow Software
software by Harmony Hollow Software →
Price:
0.00
License:
Freeware
File size:
0K
Language:
OS:
Windows Vista

(?)

Rating:

0

/5 (0 votes)
Installing IE Count Text adds a new "Count Text" item to Microsoft Internet Explorer's context menus. Right-clicking inside any text entry form field produces the context menu. Clicking the "Count Text" item from that menu opens a small window displaying how many lines, words, and characters are contained in that field.

IE Count Text is great for software developers or web site promoters who regularly submit program or site descriptions to directories that limit how many words or characters can be entered. No more wasting time and getting sore eyes trying to count the text the old way!

If the IE Count Text window is open and happens to get buried under other windows, the same window is reused, brought back to the top, and it's contents updated should you click the "Count Text" menu item again.

The program is completely safe to use and does not alter I.E.'s program file or hinder it's performance in any way. Though the IE Count Text window is a little web browser window, all of its content is processed and loaded locally from YOUR computer. Your text is not sent anywhere else for processing so your privacy is NOT compromised.

Requires Microsoft Internet Explorer 5 or later.
tags

count text how many text window the count internet explorer text item microsoft internet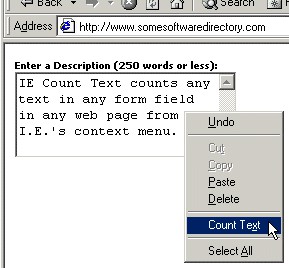 Download IE Count Text 1.0
Authors software
Similar software

IE Count Text 1.0
Harmony Hollow Software

Installing IE Count Text adds a new "Count Text" item to Microsoft Internet Explorer's context menus.

IE Count Keywords 1.0
Harmony Hollow Software

Smart webmasters know that optimal keyword distribution in web page text is integral in achieving the best possible search engine ranking.

Count Characters 3.0
Funduc Software

Count Characters helps you dump the contents of various combo, edit, list boxes, static, and button fields to the clipboard.

Text Tally 1.3
Harmony Hollow Software

Text Tally - have you ever been filling out a form on a website at 1:00 a.

Bible Analyzer 1.0
PreservedWords

Bible Analyzer is a Bible analysis program developed to aid Believers in their study and defense of the Holy Bible.

Limit Edit 1.0
Funduc Software

An outgrowth of Count Characters, Limit Edit expands upon the built-in limit feature for edit boxes and rich edit controls by letting you set your own maximum size settings for the amount of text permitted in edit boxes and rich edit controls.

CharCount 1.0.0.17
B&P Technologies

CharCount is a simple text editor that displays word and character count information.

Clippy 1.2.0 Build 20616
Way Out There Software

With Clippy, you`ll be able to remove `>` characters and reformat the text in an e-mail with a single click of a button.

Strong VMenu 1.05
StrongHtml.com

Strong VMenu is an application that builds vertical navigation menus.

LineStats 1.0
DoWhatever Software

LineStats is a tool for software developers and project managers that enables them to get an accurate line count of source code or ASCII text files.
Other software in this category

Browser Buddy 1.0
DoEasier Tech

Browser Buddy is a add-on for Internet Explorer, that includes three simple, yet very useful utilities for A Keywords Highlighter, to highlight keywords in different colors, a Selection Highlighter, that lets you highlight text in a web page just likeyou would in Microsoft Word or other similar application.

iBar 1.0
iprive.com

The iprive Bar is a add-on for the IE5+ browser.

Opera Customizer & Profile Maker 3.12
Phil Burns



MultiBrowser Bar 0.61
Turck Software

MultiBrowser bar adds a preview bar to MS Internet Explorer (version 5.

IE Mate 6.0.3
Devicode Technology, Inc.

IE mate allows you to customize Internet Explorer without having to directly update the registry.