HotKeyz 2.8.3.0

HotKeyz helps the user to work more efficiently and productively.

Developer:
Skynergy
software by Skynergy →
Price:
0.00
License:
Freeware
File size:
0K
Language:
OS:
Windows Vista

(?)

Rating:

0

/5 (0 votes)
HotKeyz helps the user to work more efficiently and productively. HotKeyz is a shortcut utility with shortcut control for executing other files, folders or RUN commands.

Launch applications in a Normal, Minimized or Maximized State. The Parameter option gives you parameter control when launching another application like Internet Explorer and surfing to a specific site as parameter. For example (iexplore.exe) with the parameter (www.skynergy.com).

It also features default hotkeys for minimizing, maximizing, restoring or closing the active window. Launch your default e-mail window to compose a new email. Control your WinAmp 2.x without it being focused.

Define memo type text and with a hotkey press, paste your text into your e-mails, documents etc. You can also paste special characters. Open and close your CD-Rom. PowerOff, Shutdown or reboot your PC with a hotkey press. The HotKeyz system tray icon will change to indicate a key press.

The shortcuts work with the WIN, CTRL, ALT, SHIFT modifier keys and most other keyboard keys. You can even enable or disable unwanted hotkeys without deleting them from the hotkey list. Categorise all your hotkeys. Print preview and then print all your hotkeys.


HotKeyz features
Categorize all your hotkeys!

HotKeyz assigns icons to every hotkey

Paste text into any edit box

Paste the Date, Time or Internet Time with / without additional text into any edit box

Launch program files, folders, documents, pictures, MP3's or playlists

Launch your web browser and surf to a site

Launch all windows in a Normal, Minimized, Maximized or Hidden state

Enable or disable an execute confirmation for specific hotkeys

Close, minimize, maximize, restore and HIDE active windows on your desktop

Right click on the tray icon or press a hotkey to UNHIDE hidden windows

Open the Recycle Bin, Control Panel, My Computer, Task Manager

Shutdown, Logoff, Power Off or Reboot your computer

Connect and disconnect your Internet Dial-up

Hide HotKeyz in the system tray

The HotKeyz tray icon changes to indicate a hotkey being executed

Remote control Winamp 2.x

Launch your default e-mail to compose a new email

Start your windows screen saver

Hide your Taskbar or Desktop and show them

Remap most of the keyboard keys to different keys

Record and playback macros

Automatically login into your favourite website or program using a hotkey

HotKeyz supports the WIN, CTRL, ALT & SHIFT modifier keys and most other keyboard keys

Print preview and then print all your hotkeys

tags

your hotkeys all your keyboard keys launch your text into tray icon other keyboard keys and and most most other print preview and then into any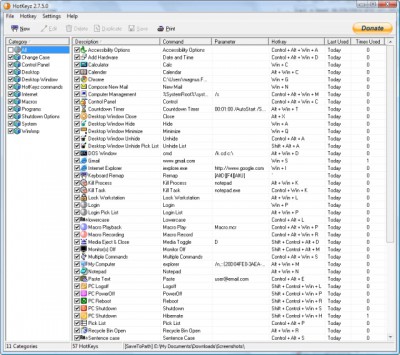 Download HotKeyz 2.8.3.0
Authors software

Memoriser 1.2.0.0
Skynergy

Memoriser is a utility for helping users remember phone numbers, passwords, account numbers, birthdays and anything else that is important .

TaskPrompt 2.4.2.1
Skynergy

TaskPrompt - complete all your daily and scheduled tasks on time.

HotKeyz 2.8.3.0
Skynergy

HotKeyz helps the user to work more efficiently and productively.

DialupMon 1.4.1.0
Skynergy

Ever forgot to disconnect from the internet with your modem and running up your phone bill? All of us have at some time connected to the internet and then got side tracked with something else, just to see hours later that you are still connected! You specifiy the amount of time before DialupMon will prompt you to disconnect.

AddOrSubtract 1.1.1.1
Skynergy

AddOrSubtract is a simple math tutor that will teach your child how to do simple addition or subtraction mathematics.
Similar software

HotKeyz 2.8.3.0
Skynergy

HotKeyz helps the user to work more efficiently and productively.

HotKey Manager 1.70
KillProg

HotKey Manager is a free and useful tool that comes with many features.

WebKey2000 1.2
David Le

WebKey2000 allows you to visit your favorite websites at the touch of a keyboard button.

4t Tray Minimizer Free 6.07
4t Niagara Software

4t Tray Minimizer lets you running applications minimized as System Tray icons, which helps in adjusting free space on your taskbar.

Swift Keyboard 3.5
kslabs

Swift Keyboard is the most convinient utility for creating keyboard shortcuts so called "hot keys".

AutoHotkey 1.0.44.07
Chris Mallett

Customize your keyboard, joystick, and mouse with an open source scripting language (AutoHotkey) that is backward compatible with AutoIt v2.

nHide 2.5.1
Crapsoft Open Source

nHide is a free and very useful open source window hider from Crapsoft.

Keyboard Tweaker 2.3
Alex Buturuga

Keyboard Tweaker is a Hotkeys manager.

FastKake 1.1
Kunle Adegoke

FastKake will build a set of handy and useful shortcuts which will give you full control of your Windows.

Mr Hyde 1.0
BrineSoft

Is your boss wandering around? Is he breathing down your neck? Hide all objectionable windows on your Desktop on one secret hotkey! Do you see him leaving? Press the hotkey once again to continue seamlessly in your important activity.
Other software in this category

APK Internet and NT/2k/XP Speedup Guides 1.0++
Alexander Peter Kowalski

2 guides that speedup Windows NT, Windows 2000, & Windows XP.

Microsoft PowerToys XP
Microsoft

Microsoft PowerToys XP are additional programs that developer works on after releasing the product to manufacturing, but before starting to work on the following project.

XP-Spider 0.6.05
Kevin Chabot

XP-Spider has all the preformance tweaks you`ll ever need for Windows XP.

Wintercooler 4.8
Liveeye

Wintercooler is a program that keeps your computer responsive and healthy by monitoring RAM consumtion, CPU usage, and optimizing Internet connection speed.

Transbar 1.2
AK Software

Transbar is a small tweaking program that takes advantage of Alpha Transparency in Windows XP and Windows 2.