Copier 1.0.1.1

COPIER is useful utility.

Developer:
ZGS
software by ZGS →
Price:
0.00
License:
Freeware
File size:
0K
Language:
OS:
Windows Vista

(?)

Rating:

0

/5 (0 votes)
COPIER is useful utility. The program was initially created for reserve copying files. But "has grown up" and became the powerful tool for processing a plenty of files. Now the program can make samples of files on masks, and then copy, move or delete those files. Also archiving is supported. All this is represented as a set of tasks. Tasks can be united in groups.

COPIER executes tasks consistently (from top to down). It is possible to move tasks by mouse both to other groups, and in one group for change about an arrangement. Those tasks which are allocated are processed only. At allocation of tasks it is possible to use the mouse and keys Ctrl and Shift. At selection of group, all tasks located in it will be selected.

Simple constant copying of the information is the best protection against its loss. COPIER - the program for daily use. COPIER can process files, folders and the whole disks. At repeated copying those files which have been updated (the program are replaced only verifies the original and a copy on dates). It also reaches the big speed at daily copying files.

The program can be applied and to removal of unnecessary or temp files from any folders of the disks. For example, files *.gid or Readme.txt.

Be extremely cautious at creation of tasks for removal. Files and folders leave irrevocably, not to the Recycle Bin. Also it is not recommended to use COPIER, if you sometimes change time on your computer to avoid replacement of really new files really old.
tags

the program use copier those files program can copying files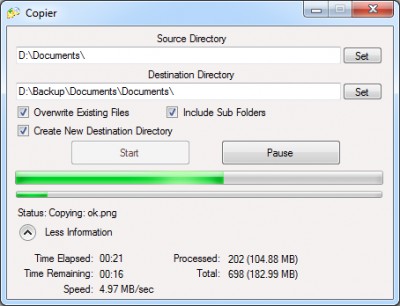 Download Copier 1.0.1.1
Authors software

TablePro 3.28
ZGS

TablePro is a simple and convenient database for the home or office.

Copier 1.0.1.1
ZGS

COPIER is useful utility.
Similar software

Copier 1.0.1.1
ZGS

COPIER is useful utility.

Unstoppable Copier 2.28
Roadkil

Unstoppable copier is great for recovering files from scratched CD's or defective floppy/hard disks.

Intelligent Copier 1.0.0.8
D.S.M./Interdesigner Inc.

Intelligent Copier is designed to copy or move files (as specified on settings) to the predefined destination folder.

File Copier 1.03
darmstrong01

FileCopier is a platform-independent utility for copying multiple files and folders to multiple locations with a single click.

Iman File Copier 1.0
Iman

File Copier is a simple application designed to help you in copying data.

M3U COPiER 1.1
Arne Brachhold

M3U COPiER is a free tool which takes one or more M3U files and copies the contained MP3 files into a directory or MP3 player.

Copy Handler 1.28
Jozef Starosczyk

Copy Handler program is a free and small utility designed for copy/move files and folders between different storage medias (hard disks, floppy disks, local networks, CD-ROMs and many other).

Sync Last Files 1.2
KutinSoft.com

Sync Last Files is simple but very usefull synchronization tool.

JaBack 7.21
Hitek Software LLC

JaBack is a software that can help you execute tasks.

SecureTask 2.0
Crypto Systems Inc

SecureTask will let you automatically perform some security-related tasks on your PC, such as securely deleting files, encrypting files and performing system cleanup.
Other software in this category

Memoriser 1.2.0.0
Skynergy

Memoriser is a utility for helping users remember phone numbers, passwords, account numbers, birthdays and anything else that is important .

Paste 1.0
A.Schw

The use is very simple.

QuickReplace 1.0
killermist

This is a little program I wrote to help me write similar routines within programs more easily, especially where the only thing that changes between procedures were variable names and constant references.

Sayz Me 0.51
Adam Bunter

Sayz Me is a simple text-to-speech software assembled in Python and freely distributed under a BSD license.

Microsoft Office Sounds 97
Microsoft

You can install these sounds to have fun audio cues play as you work with Microsoft Word 97/98, Microsoft Excel 97/ 98, Microsoft PowerPoint 97/98 and Microsoft Outlook 97/98.