Ycopy 1.0a

Ycopy is a free data migration application.

Developer:
Ruahine.com Software
software by Ruahine.com Software →
Price:
0.00
License:
Freeware
File size:
0K
Language:
OS:
Windows Vista

(?)

Rating:

0

/5 (0 votes)
Ycopy is a free data migration application. In short it is a program that helps you copy data from one disk to another.

Intended for use by computer technicians, IT people or anyone routinely faced with the task of trying to copy data from a client or colleagues old drive to a new one.

When Ycopy encounters files or folders that it cannot copy, it adds them to a printable report, and then continues copying the other files.

Unlike regular windows copy functions which just stop leaving you with the time consuming task of poring over directories and files to find out where the copy was up to, skip the affected files, and then proceed on to copy the rest of the data.

When the copy completes you then have the option of printing a report of all the files that could not be copied.

You can then give this to the client, and say "we managed to copy all your data except for these files".
tags

the copy and then with the data from copy data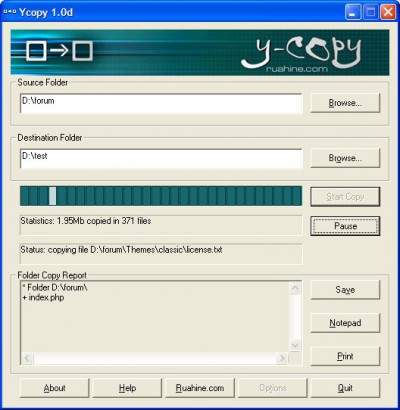 Download Ycopy 1.0a
Authors software

Ycopy 1.0a
Ruahine.com Software

Ycopy is a free data migration application.
Similar software
Other software in this category

Nullsoft Beep 0.3
Nullsoft, Inc

Nullsoft Beep is an application that makes your computer sound like computers sound in the movies.

AR Soft RAM Disk 1.20
AR Soft

The AR RAM Disk is a freeware driver for Windows NT or Windows 2000.

DBX Plugin for Windows Commander Beta
Labs99

DBX Plugin is an additional component for Windows Commander allowing you to read contents of Microsoft Outlook Express files.

4th split 1.1.9.0
Sergey S. Tkachenko

4th split is used for splitting impossibly large files on blocks.

HDCopy 2.104
Kurt Zimmermann

HDCopy is recommended to make a boot disk.