WinGuard Pro 9.1

WinGuard Pro Free lets you lock down any program, window or files on your computer with a password.

Developer:
WinGuardPro.com
software by WinGuardPro.com →
Price:
0.00
License:
Freeware
File size:
0K
Language:
OS:
Windows Vista

(?)

Rating:

0

/5 (0 votes)
WinGuard Pro Free lets you lock down any program, window or files on your computer with a password.

WinGuard Pro 2006 Free Edition allows you to lock down the Desktop, My Computer Icon, Internet Access, Block people from installing software, the Shutdown menu, Boot Keys and even block access to the entire computer.

It is fully configurable with password time delays, screen blanking and so on. It has over 50 common build in programs like Control Panel, Windows Explorer, Add or Remove Programs, Internet Explorer, Run, the list is endless, and you can even add your own programs, windows and files to the list.

Best of all, WinGuard Pro Free is really easy to use, because you have so much already built in for you, you need not do much in your first stages. As your security needs grow, you can then start adding more items to its list to make your PC fool proof.


WinGuard Pro features
Built-in programs: There are around 15 common programs built-in for locking in the Free Edition.

Lock your own programs*: You can also add any of your own programs for locking.

Password timer: You can set in seconds how long you want to give users to enter the password to access any locked programs. This can help deter hackers.

Screen blank: You can have the screen blank in emergencies, this prevents any use of the computer, and blacks out the screen only leaving a password box to access the entire system.

Additional Protection: This lets you lock even more features down on your PC. Such as the Desktop, My Computer, Internet Access, Internet Downloading*, Software Installations* and much more.

Stop people installing software*: This is a must have for those of you who are sick of users installing software on your computers without your consent. With this feature just a simple click is all that's needed and the software will disable Setup programs, Installers, Self Extracting Exe's, Zip files, the lot.

Help prevent viruses: Using the above feature to stop software installs, this will help prevent such viruses that may be contained in program the user is trying to install.

Lock or Encrypt your Files and Folders: Two methods of protection are available, including strong encryption.

tags

you can winguard pro your own own programs for locking help prevent the screen screen blank the list installing software you lock lets you pro free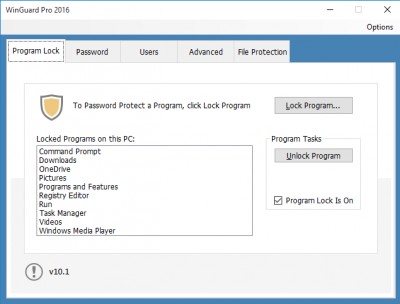 Download WinGuard Pro 9.1
Authors software

WinGuard Pro 9.1
WinGuardPro.com

WinGuard Pro Free lets you lock down any program, window or files on your computer with a password.
Similar software

WinGuard Pro 9.1
WinGuardPro.com

WinGuard Pro Free lets you lock down any program, window or files on your computer with a password.

LockDown 1.60u
Zinious Software

LockDown is a handy program for use on windows 95, 98, and Me (although it also works under Windows NT, XP, 2000, and 2003 too) to reproduce the Lock Workstation feature of Windows NT, XP, 2000, and 2003.

Crypto-Lock 2.02
RTSoftware

Crypto-Lock is a program that will encrypt your files.

PASAIO 3.0
MacroSoft

These days spyware, adware and other malicious software programs are everywhere, and it seems almost impossible to stop them.

iIChat Logger 2.0
iI Software

iIChat Logger 2.

Program starter 1
Advance Utility

Start programs is a free software that allows you to start several programs at one time.

System Lock 1.2.1
r2 Studios

System Lock will allow you to lock your desktop so that no other users may use your PC.

Application Lock and File Encrypt 2006 6.5
WGP

Password protect your software, files and folders for free! Users can add password protection to any Windows program.

FREE KEYLOGGER by PC Sentinel Software 2.5.0
PC Sentinel Software

Now with Free Web Access to all log files! Easy to use internet monitoring & keylogging software effortlessly records all keystrokes on the PC and helps protect children when they go online and surf the web - and can also be used to keep track of what employees are doing on company computers on company time.

TMA Password Keeper 3.0.0
TMA

Password Keeper helps users to store passwords, web site registrations, personal information or login information.
Other software in this category

VisualICE Report Utility 4.7
Visualize Software

VisualICE Report Utility - so what do you do if you would like to know more about what the hacker tried to do, who he is, where he`s from or how to report him to the proper authorities? That`s where VisualICE Report Utility comes in.

Gopher Smoker .06
PivX Sollutions, LLC

PivX Solutions, LLC released a program appropriately named `Gopher Smoker`.

Bouncer for Windows 1.0 RC6
Chris Mason

Bouncer is a network tool which allows you to bypass proxy restrictions and obtain outside connections from an internal LAN.

Slap 1.2.2.0
Security Software

If your like me you run firewall software that tells you when someone tries to access your system.

VisualZone Report Utility 5.7
Visualize Software

VisualZone Report Utility is a report utility and an intrusion analyser for ZoneAlarm and ZoneAlarm Pro.