PictureRelate 2.6.3

PictureRelate compares pictures by similarity.

Developer:
Dr. Axel Walthelm
software by Dr. Axel Walthelm →
Price:
0.00
License:
Freeware
File size:
0K
Language:
OS:
Windows Vista

(?)

Rating:

0

/5 (0 votes)
PictureRelate compares pictures by similarity. Of course computers can't understand what's in a picture. Pattern recognition and image analysis has tried for many decades and has failed, so far. But there are some basic image properties that can be analyzed by a computer. PictureRelate uses a set of such features to classify images. These features were designed to mimic the human eye, i.e. they use what neurologists like to call "pop-out" features.

The human brain uses pop-out features to find interesting visual elements fast. So a major benefit of using this technique is: it is fast! Using a large number of such features and combining them in a weighted way often gives surprisingly good results. Therefore I decided to publish my experimental program as a technology demonstrator. Try it!

With a bit of experience you can browse your pictures by similarity by choose a picture close to what you are looking for, adjusting feature weights to fit your criterias, select a more similar picture, and repeat this process.

As an additional benefit you can search for duplicate pictures, which have a different image format, or different size, or even for duplicates which have different text stamped into the image.

For ease of use PictureRelate supports browsing, viewing, renaming, deleting, etc. You can copy and paste and drag and drop images from PictureRelate to other applications or to the desktop and from other applications and the explorer into PictureRelate. Configuring custom tools to manipulate images in a "Open with" context menu is supported.

PictureRelate reads all major picture formats like JPG, BMP, PNG and TIFF. Any other picture format can be easily imported once you did install a filter command. Examples for using IrfanView and XnViews NConvert are supplied.

PictureRelate is specifically designed to work with a large number of pictures. 50.000 and more pictures are still searchable easily and quickly on a modern PC, once the database is built.

Features:

Browse pictures from different directories and drives in a single list

View, Rename, Delete, Copy&Paste, Drag&Drop, switch to Explorer

Can handle large lists with 50.000 pictures and more

Image formats: JPG, BMP, PNG, TIFF, PPM, PGM, PBM, RAS

Reads any other format via import filter command

tags

you can jpg bmp bmp png any other and more filter command other applications which have the human pop out out features large number such features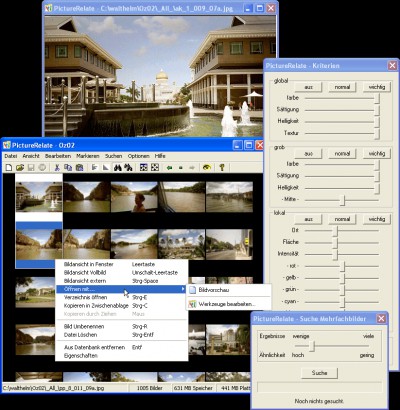 Download PictureRelate 2.6.3
Authors software

PictureRelate 2.6.3
Dr. Axel Walthelm

PictureRelate compares pictures by similarity.
Similar software

PictureRelate 2.6.3
Dr. Axel Walthelm

PictureRelate compares pictures by similarity.

Digital Image Viewer 1.1
Specialty Software

Digital Image Viewer is a very useful image utility that allows you to edit , manage and view images.

NeoDownloader Lite 2.9
Neowise Software, Inc.

NeoDownloader Lite will allow you to download and view thousands of pictures from web sites.

Image Processing Wizard 1.0.1987
improwiz

Image Processing Wizard is a fast, reliable and easy-to-use software tool, useful for batch resizing digital pictures and quickly adjusting their quality and file size.

Mihov Picture Downloader 1.5
Miha Psenica

Mihov Picture Downloader is a useful and handy utility you can use for downloading all the pictures from one or several web pages.

ImageSorter 1.0.3
FHTW

ImageSorter is a graphical media browsing tool which will allow you to automatically sort any pictures by color similarity (and thus by image content).

JIBS - The Java Image Browser and Sorter 1.6.1
Gerhard Beck

An image browser with a full-screen slide show, image sorting, and a printable contact sheet.

Picture Resizer 6.0
RealWorld Graphics

Picture Resizer is an easy-to-use utility for batch resizing of JPG pictures and photos.

Mihov Image Resizer 1.2
Miha Psenica

Mihov Image Resizer is a useful utility for batch resizing images in gif, bmp and jpg picture formats.

Picture to Text 1.7
EK

Picture To Text is able to convert and embed multiple images (BMP and PNG) as text into a single Web page.
Other software in this category

PhotoCDBrowser 2.96a
M. Onyshchuk

PhotoCDBrowser is an application used to create and view your archives in TIFF, JPEG, PCX, TGA, EPS formats.

SlowView v1.0 RC2 Updated
Nikolaus Brennig

SlowView is a free multimedia viewer.

Pawbrowse 1.1 beta 2
Pawsoft

Pawbrowse is an advanced picture browsing and viewing software.

Visualizer Image Browser 2.3
Darren Wilden

Visualizer is the Smart looking image browser with which you can import desktop screen shots, edit and optimize images, save as HTML documents, save as BMP or JPG, add effects or browse through 20 different types of images.

PhotoView 1.00
SoftBoard

PhotoView is a compact and easy tool for viewing pictures.