MSN Messenger 8.0.0328

MSN Messenger allows you to chat online, in real time, with family, friends and colleagues.

Developer:
Microsoft Corp.
software by Microsoft Corp. →
Price:
0.00
License:
Freeware
File size:
0K
Language:
OS:
Windows Vista

(?)

Rating:

0

/5 (0 votes)
MSN Messenger allows you to chat online, in real time, with family, friends and colleagues. It's faster than e-mail, more discreet than a phone call, and best of all – it's free! MSN Messenger is more than just text, it's a great way to collaborate with co-workers or touch base with family and friends.

You can even send an instant message to a contact's mobile phone. Customization features help you personalize your chats and make your connections even more meaningful.

Here are some key features of "MSN Messenger 7":
Stay in touch with friends, family, and coworkers around the world.

Send instant messages to any of your contacts who are online. Determine at a glance which friends are available to talk.

Have a conversation with a group of friends. Invite up to 20 friends to participate in the same conversation.

See the latest information about your contacts. Click your contacts' status icons to see a contact card that displays their current information and, if they choose to provide it, a link to their MSN Spaces site.

See and hear your contacts. Use the new Video Conversation feature to make communicating with video clearer and sharper than ever. Use full-screen conferencing for enhanced immersion.

Send and receive text messages with a mobile device. Use your computer to exchange instant messages with many models of mobile devices. You can also send messages to MSN Direct watch.

Send and receive instant messages with your mobile contacts. Enhanced mobile messaging lets you chat with a mobile contact in the same way that chat with a regular PC contact. This feature varies depending upon your region, your contact's mobile carrier and mobile device.

Send a voice clip to express yourself personally. Sometimes a message doesn't convey what you really feel. Now you can speak your instant message instead of typing it. Voice clips are small, 15-second voice clips that you send to your contacts.

Save your conversations. Keep those important ideas and funny exchanges as long as you want by saving all your MSN Messenger conversations automatically. This feature requires Microsoft Internet Explorer 6.

Make new friends.

Create your own space on MSN Spaces. Easily share your thoughts, photos, and interests on the Web.

Create a public profile. Introduce yourself by informing others about your hobbies and interests. You can also take a look at the profiles of other people in your conversation.

Access useful information.
You can rearrange the tabs in the MSN Messenger main window any way you want. Tabs that appear can include:

The MSNBC tab delivers national and regional news.

The Expedia tab helps you plan your travel.

The MSN Shopping tab offers easy online shopping.

The CNBC and MSN Money tab guides you through money management and investing.

The MSN Autos tab offers local traffic news and gas prices.

The MSN Games tab lets you challenge your friends to an online game no matter where they are.

Be creative and have fun!

Share activities with family and friends. Play games. View photos. Listen to music. Transfer files. Draw pictures.

Choose a display picture. Select from a variety of display pictures (An image associated with your display name that helps others recognize you. It appears in the main Messenger window, and in all conversation windows. ) or create your own. For an even wider variety, you can also install exclusive and unique dynamic display pictures from our partner sites.

Express your feelings. Add emoticons (A small image that can be inserted into a message to represent a certain mood or attitude. ) to your messages or create your own. You can install a variety of emoticons from our partner sites.

Change your personal message. Create your own personal message (A customized message that appears next to the contact name in the MSN Messenger main window.) , and change it as often as you want.

Share your music titles. Show your contacts what song you are listening to on Microsoft Windows Media Player.

Personalize your background images. Select a cool background (A color or image that appears as a backdrop in the conversation window, similar to wallpaper.) for your conversation window (The window you use to send and receive instant messages.) or create a background from one of your favorite photos. Use the Share option to show your background image to others and see what image they're using.

Get Dynamic Backgrounds for animated fun and color. Dynamic Backgrounds add animation and interaction to your conversation window. You can also share your backgrounds with your friends so all of you can be on the same page.

Stay safe.

Block messages from specific people. Don't tolerate harassment. With the click of a button, you can block a contact from sending messages to you or seeing your status (Indicates at a glance whether a contact is signed in to MSN Messenger and able to receive instant messages. Status appears in parentheses next to the display names.) .

Block messages from people you don't know. Help protect your privacy by restricting incoming messages from people who are not on your allow list (The list of people who can see when you are online and can contact you. ) .

Control whom your child talks to. Monitor your child's use of MSN Messenger by using the Parental Controls feature. An online activity report tells you how much time your child spends using MSN Messenger and whom your child talks to.


Requirements
Pentium PC with 233MHz processor or faster (500MHz recommended)

Minimum 64MB of RAM (128MB recommended)

Up to 50MB of hard disk space needed to install — after install, up to 15MB may be needed

256-color VGA or higher resolution graphics card (SVGA recommended)

Minimum 800x600 screen resolution

Microsoft® Internet Explorer version 6.0 or later must be installed on your computer, though it does not need to be your default browser

tags

you can msn messenger your contacts instant messages the msn can also your child create your your own your conversation messages with family and receive instant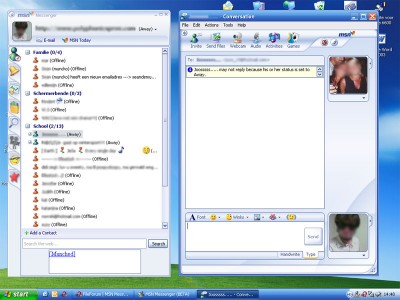 Download MSN Messenger 8.0.0328

Download MSN Messenger 8.0.0328

Authors software

Microsoft Windows XP Plus! Service Pack 1
Microsoft Corp.

Microsoft has released an update for its addon utility: Microsoft Plus! designed for the Windows XP operating system.

Internet Explorer 6.0 SP1
Microsoft Corp.

Internet Explorer 6 SP1 is the next update to the Internet Explorer technologies representing general improvements to Internet Explorer 6.

Microsoft Office 2000 Service Pack 3 (SP3)
Microsoft Corp.

Office 2000 Service Pack 3 (SP3) provides the latest product updates to Office 2000 and offers you the highest levels of performance and security available for Office 2000.

Windows Media Encoder 9
Microsoft Corp.

Windows Media Encoder 9 Series is a powerful tool for content producers who want to take advantage of the many innovations in Windows Media 9 Series including high-quality multichannel sound, high-definition video quality, new support for mixed-mode voice and music content, and more.

Microsoft IIS Lockdown Tool 2.1
Microsoft Corp.

Microsoft IIS Lockdown Tool will provide you the means to instantly configure an IIS 4.
Similar software

MSN Messenger 8.0.0328
Microsoft Corp.

MSN Messenger allows you to chat online, in real time, with family, friends and colleagues.

Wic messenger v0.9
WIC Messenger

With WIC messenger, you can create your contact list and see when your friends are online.

damaka 2.7.18
damaka Inc

damaka is a free and useful software which lets you to make free phone and video calls anywhere in the world.

BadTripmsn 1.4.05
Slay McGregor (piyo²)

Well, badtripmsn is a mod for msn 6.

Mess Patch 8.1.0178 - Generation 5
Rolando

Mess Patch allows you to patch Windows Live Messenger.

messagingPeople 2.01
Golden Software Engineers

messagingPeople is a tool that helps you send SMS, WAP, MMS and voice messages and Faxes.

SimpLite for MSN 2.2.5
Secway

You are using MSN Messenger to chat with your friends or colleagues.

GCN 2.9.1
Global Communications Network,

GCN is a new online communications service, which allows you to see when your friends are online, communicate in private conversations, talk collectively in chat rooms, send files, post to and create message boards, send and receive E-mail, create your own profile, speak in voice chats, play games, draw in white boards, browse the Internet, participate in video conferences, and much more.

SoapBox 2.1.2 beta
Coversant Inc

The SoapBox IM Client allows the ability to sort contacts into groups, with names chosen by you.

CryptChat IM 2.0.1.3
CryptChat IM

Use CryptChat IM to securely communicate with all of your online friends! CryptChat IM is a encrypted point to point instant messenger.
Other software in this category

Chat-N-Tickle 5.0
Chatntickle

Chat-N-Tickle is an amazing chat program loaded with features.

MSN Messenger Font Colors 1.5
Robert

It`s very easy: -Select the color you want by moving the bars -Press Apply -Close your chat windows and re-open them.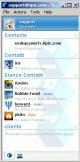 TipicIM 0.7.12
Tipic Inc.

TipicIM can be used with the TIMP IM server or any XMPP/Jabber Compliant Server and is available at no cost for download and usage.

MSN Messenger 4&5 Polygamy
Add Asdfuae

Polygamy let's you use multiple copies of msn messenger at the same time thus allowing you to use multiple accounts at the same time.

Several MSN Messenger Sessions
Robert

THIS version is working ONLY with 4.